Thousands turn out for Glasgow Sees Syria vigil
Thousands gathered for a vigil in Glasgow this weekend to support refugees and show that people of Glasgow don't abide by the Home Office decision to help so few refugees in crisis.
Supporters young and old gathered in George Square to show that humanity is universal has no boundaries.
Of the event name, organisers said: "The name is Glasgow Sees Syria but in doing so we see every person who has lost their home. We light a candle for all people in this situation and in doing so tell our Government 'we see'!"
There were no shortage of homemade signs, placards and t-shirts. People make Glasgow and Glasgow really does care.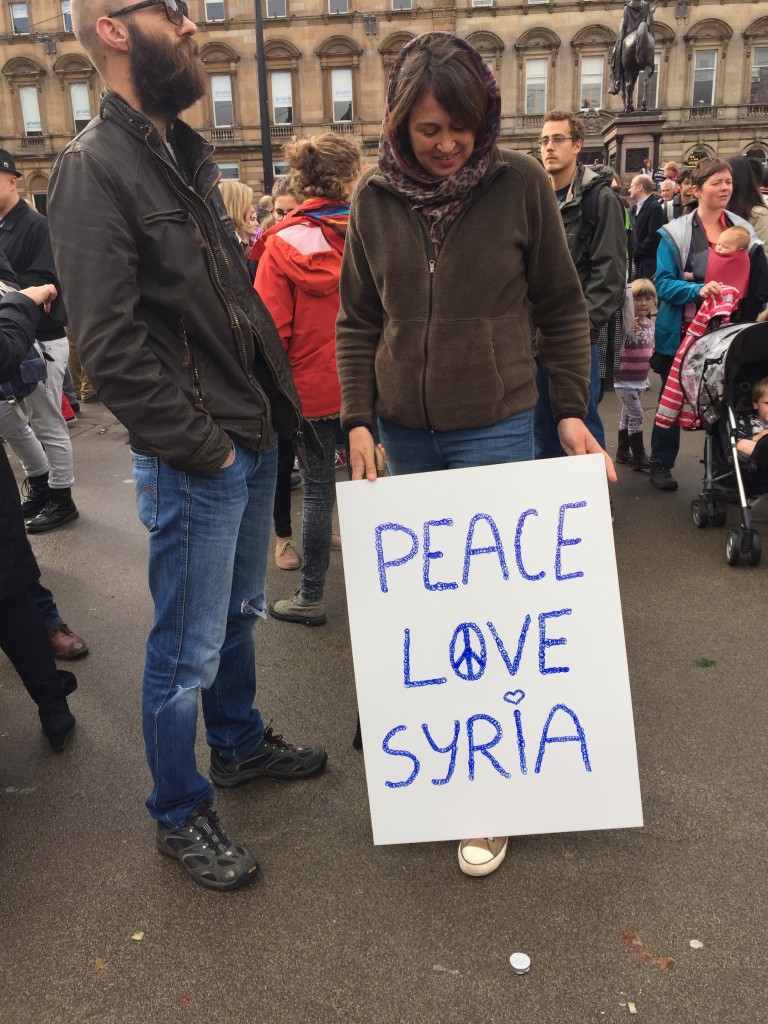 Other signs exclaimed "we are all migrants", "human up" and "welcome refugees, the world is everyone's."
Plenty of donation zones were situated in and around Glasgow, such as at Strathclyde University Union and volunteers on the day collecting at George Square.
There was live music all day and drumming from Somalian drummer Gameli, who lit up the square with his words "freedom ye canny whack it."
Stalls were set up to sell branded merch such and Aye Welcome Refugees t-shirts and wristbands, the proceeds of which would be split between relevant refugee or migrant charities.
Gary Christie, a member of the Scottish Refugee Council, was optimistic: "We will find solutions to the refugee crisis once we remember that people are people."
The main events were rounded off with a candle-lit vigil. A two-minutes silence made the air grow cold and thick, as we mourned friends we never had; those who didn't make it, fleeing from persecution, war and conflict.
Alison Phipps, who works at GRAMnet said: "It is so easy to destroy life. A candle flame is vulnerable but it is a sign of light against the darkness of death; a sign of sharing in grief, because sometimes the moment comes for  silence; for candlelight; for mourning."
You can read Alison's heartwarming speech in full here. 
Afterwards, the crowd sang John Lennon's Imagine and it was hard not to shed a tear. The atmosphere was one of mournful solidarity and organisers urged us to continue fighting and raising awareness long after the event was over.
The event in Glasgow sparked simultaneous similar events across Europe in Greece, Italy France and across the UK.
All were viewable though livestreams and could be followed on hashtags like #EuropeSeesSyria and #GlasgowSeesSyria.
A petition has been set up to speed up the asylum process to provide safety now, not 2020. See here.