Stirling students join CND protests in London
'A nuclear free world is something I deeply care about'
On Saturday there was a protest in London against the renewal of Trident. The protestors were joined by a group of Stirling students and we spoke to them to find out how their experience was.
We first spoke to Rachel, a third year Politics student who told us: "There were 21 of us who went down, when we got down there we took a rough estimate that their were tens of thousands there which was what was expected to turnout.
"There was an atmosphere amongst the protestors, like any other Stop Trident protest, of frustration that nuclear weapons are continuing to be used, but everyone you meet is lovely and there is a real feel of a collaborative effort for change.
"Our expectations for the march are much like everyone else's there, we aren't deluded in thinking that the large number will stop the Tories renewing Trident this year, but we could hope for more grassroots movement within the Labour party. We also want to raise as much awareness as possible and I think that was achieved.
"There was support from the usual ones, Corbyn, Natalie Bennett and Nicola Sturgeon all turned up and spoke after the rally at Trafalgar Square. One of my favourite signs I seen was one which said 'Bums not Bombs'."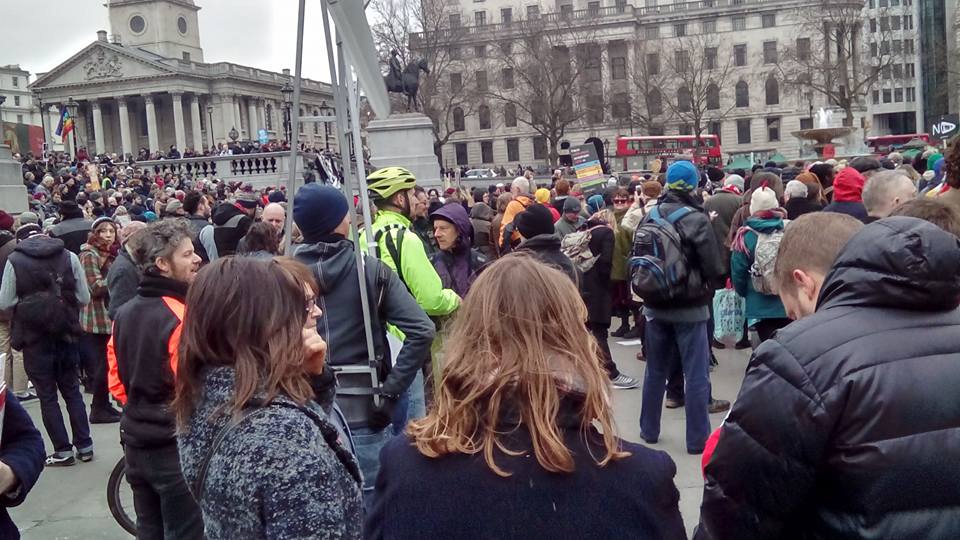 The Tab also spoke to Michael the Stirling University CND President who told us: "I went down because a nuclear free world is something I deeply care about and this was the biggest CND demonstration in a generation. I feel that Trident is indefensible and an injustice to the people of this country.
"Placards can be inventive, I didn't see it this time but previously I have seen one which said 'trident is about as much use as a marzipan dildo'."
We also spoke to Sammy who said: "I went because I enjoy the atmosphere of being surrounded by others fighting for the same thing as me and able to exercise (very, very loudly) my freedom of speech. Also, a road trip with the CND guys seemed like a good idea and I was not disappointed."