These are the people that want to run your union
Don't judge them by their Microsoft Paint skills
The time is upon us again. Put your headphones on, get your head down and whatever you do don't make eye contact.
Union election time is a blur of bright leaflets, stressed campaign teams and trying to avoid people you barely know but got drunk with once who will accost you every time you walk through the atrium.
But lucky for you, your friendly Tab team will be here to cover all the excitement (or lack of) surrounding this years Union elections. We'll be at the hustings, campaign days and in Studio when the victors are announced so that you can stay in bed without missing a thing.
Before we quiz the candidates this week, here's a quick rundown of who's standing for what.
UNION PRESIDENT
Andrew Kinnell
"A voice for all students."
Fourth year Sociology and Politics
Jade Love
"One Love, One Union."
Fourth year English Studies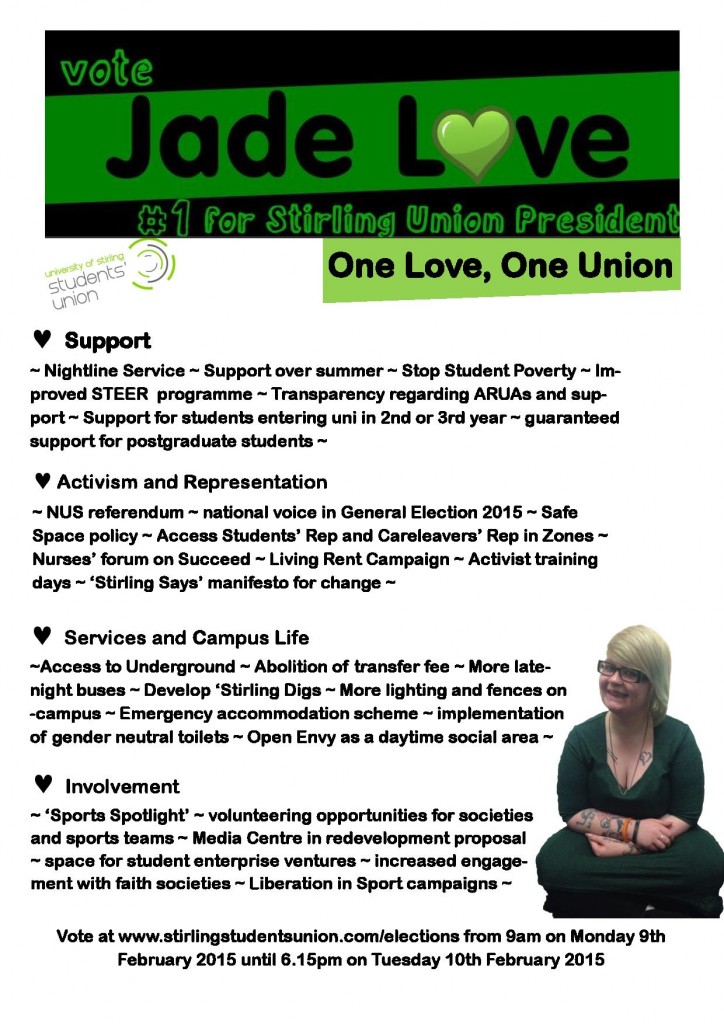 SPORTS UNION PRESIDENT
Jessica Morris
"JESSMO FOR PRESMO!!!"
Fourth year Sports Studies
Chris Priddle
"Vote Chris Priddle #1 for Sports President! #Pridzforprez #Onemoreyear"
Current Sports Union President
Eve Whitelaw
"Sports for All #HBHM"
Fourth year Criminology and Sociology
VICE PRESIDENT COMMUNITIES
Roslyn Conlan
"Partially sighted, totally awesome!"
Lauren Marriott
"Re-Elect Lauren Marriott VP Communities #OneMoreYear"
Current VP Communities
VP EDUCATION
"A vote for me is a vote for a confident, capable, creative and campaigning union"
Fourth year Politics