Ceilidh in the Castle Review
A St Andrean tradition, the Ceilidh in the Castle was a beautiful event hosted by the Celtic Society that brought town and gown together for a fantastic celebration.
The Ceilidh in the Castle is a wonderful St Andrews tradition, hosted by the Celtic Society, as part of the On The Rocks arts festival. Both town and gown gathered on the evening of April 12th in the St Andrews Castle to participate. Despite a weather forecast that predicted rain, it remained gloriously sunny for the entire event, which allowed the North Sea to be a beautiful backdrop. Many people attending wore their kilts, which contributed to the historic atmosphere celebrated in this event. The Celtic Society is beginning their 220th year as a part of St Andrews. This event was open to anyone wanting to participate­­, and even people from other towns throughout Scotland joined in.
The event was great for beginners and ceilidh­ veterans alike, as there were callers instructing people on how each dance is performed along with multiple members of the Celtic Society demonstrating throughout the ceilidh. Volunteers from the On The Rocks festival acted as stewards to make sure the event remained safe. Most of the ceilidh dances were rather easy, perfect to be picked up by beginners who did not have much experience before this event. Though at times it was difficult to hear a caller giving instructions on how a dance proceeded, it could eventually be picked up easily enough.
The event was sold out and extremely busy­­; many times the callers would recommend that people break off into smaller groups so that there would be room for everyone to dance. Throughout the event people were able to take breaks and watch the dances while drinking complimentary beverages. Halfway through the event, there was a refreshment break where people were able to pick up chocolate crispy cakes and watch a beautiful demonstration by the advanced dancers from the Celtic Society, which showed a definite mastery of this dance style.
The music was performed by a live band consisting of two accordions and drums. It definitely added to the joyous atmosphere of the Ceilidh. Throughout the event they played traditional music that was great to dance to, and near the end of the event, they began to play covers of more modern songs­­, most notably Disney and Lady Gaga­­, interspersed between the traditional Celtic music.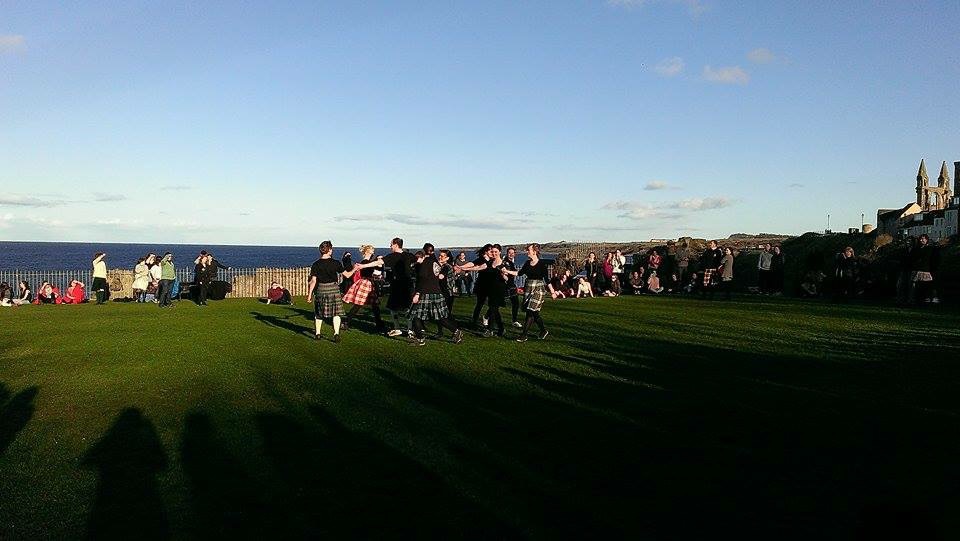 Although the weather was cooler than it had been for the previous week, the ceilidh was still greatly enjoyed by everyone who attended. A procession led by a piper from the castle to the pier, with many students wearing their red gowns concluded this wonderful, historic event.
Images courtesy of Katherine Kelly Lynch.