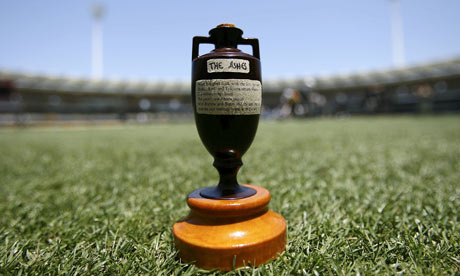 Ashes to Ashes: England's wounds are self-inflicted
Can England save this series? Or should that not be the priority?
"2-nil, and still we sing"; the Barmy Army, ebullient as ever, pushed England all the way in Adelaide, forlornly attempting to drag their side to an unlikely draw. However, Stuart Broad appeared less interested, slogging Siddle for 6 in the first over of the final day, before perishing in the same area (backward square-leg, of course) the next ball.
Remember that it wasn't all doom and gloom for England in the second Test: Michael Carberry looks a very assured player at Test level, and is in considerably better control of his game than many of England's other talismen; Ian Bell continues to demonstrate that he can keep his head when all about him are losing theirs; and Joe Root's 87 was a real coming of age, batting at number three in a Test match for the first time.
Positives aside, these two games have been a real wake-up call for England. Some good fortune and Ian Bell's runs papered over the ever-widening cracks in Alistair Cook's side this summer, and all of a sudden, Australia have found a batting line-up that works again, and a bowler who can regularly crack 90mph. In many ways this is the perfect storm.
It may actually be that this series is the best possible tonic for Andy Flower's team. Jonathan Trott's departure has woken them to the fact that they have very few batsmen with sufficient experience to step into any breech, and they now have to consider what their Test team may look like in 4 years' time. Batters such as James Taylor, Gary Ballance, Alex Hales and Eoin Morgan, alongside the now-established Root, as well as all-rounders like Chris Woakes and Ben Stokes are all likely to figure in a big way, but none bar Morgan have any significant experience of international cricket. Ian Bell, Kevin Pietersen, Matt Prior, Alistair Cook, and the aforementioned Trott will all be in the twighlight of their careers by then, and ideally England would have been slowly making the transition by introducing new players into the winning side. However, it is clear that this has not been the case, and now England find themselves, in the batting department, with very little depth beyond the first XI.
Cook and Flower could do worse than essentially considering this series lost; traditionally you don't come back from two Tests down in Australia, and look at trying to rebuild the batting line-up somewhat. Carberry, a man who has been unlucky not to get more Tests already, looks a real player, although at the age of 33, he has no more than 5 years of England duty in him. Root should become mainstay of that new line-up, but there is no reason why Ballance or Stokes, or even a performance squad player such as Varun Chopra or Moeen Ali shouldn't be given the chance to shine amongst class players like Pietersen and Bell with a run in the team, both in Australia and the post-Christmas tour to the West Indies.
England host Sri Lanka and India at home next summer, series which they should fancy winning, but assuming England lose in Australia, they should see 2014 as a chance to look forward further than just the next Ashes series and instead try to ensure the long term success of England's test cricket team.