Get the lockdown look with Soton's best dressed on campus: Face masks edition
And you haven't changed out of your PJs all month
Now there's even less of an incentive to leave the house as we find ourselves in the middle of a second lockdown, most students have resorted to chucking on their comfiest clothes like trackies or just a dressing gown. This is perfectly acceptable, but some have gone above and beyond whilst venturing to campus, whether that be to study or just to take advantage of the Pret subscription. Any excuse to dress up, right?
May I present to you this year's trend setters:
Darcy, Law
Carefully coordinating her lilac mask with her scrunchie, Darcy stood out on campus. Her casual look consisted of a loose-fitted checked flannel and rolled mom jeans, with a rust coloured scarf to add an autumnal layer.
Ella-Marie & Josh,  Music and Electronic Engineering
Ella-Marie was repping her very own clothing brand on campus, alongside friend Josh. The khaki and white jumpers are just a taster of what her clothing range has to offer. She paired the jumper with a ditsy floral skirt whilst Josh played it safe with black jeans. The matching black masks brought the outfits together.
Don't forget to check out Ella-Marie's clothing brand on Instagram.
Angelica, Business Management
Whilst passing by Hartley, Angelica looked snug and stylish in her royal blue Ralph Lauren puffa. This was worn well with some relaxed white jeans and a cute lilac turtle neck.
Chengetai, Sociology with Anthropology
Chengetai rocked up to campus in a black tee and jeans along with a complimenting baby blue checked over-shirt. This looked good with his matching statement mask and casual Converse. The luminous laptop case contributed well to the overall look.
Maddy, Cardiac Physiology
Found outside Building 100, Maddy looked put together with her fashionable wet look leggings. The leggings were toned down with a loose-fitting Nike tee and an open beige puffa jacket to layer the outfit. Her slick white trainers gave the look a sporty finish.
Terry, Marketing Management
Terry wasn't afraid to stand out with his zip-front detailed trousers and denim jacket combo. He pulled it off by adding subtle black accessories like his leather-like mask and designer cap along with his roll neck under layer. The camel suede boots created a nice contrast to the look.
Grace, English & Film
Grace was looking in with the trends as she showed off her brown leather blazer-style jacket, dressed down with a navy oversized jumper. The ripped straight leg denim jeans suited the neutral colour scheme. Her edgy honeycomb patterned mask topped it all off.
Jonny, Marine Biology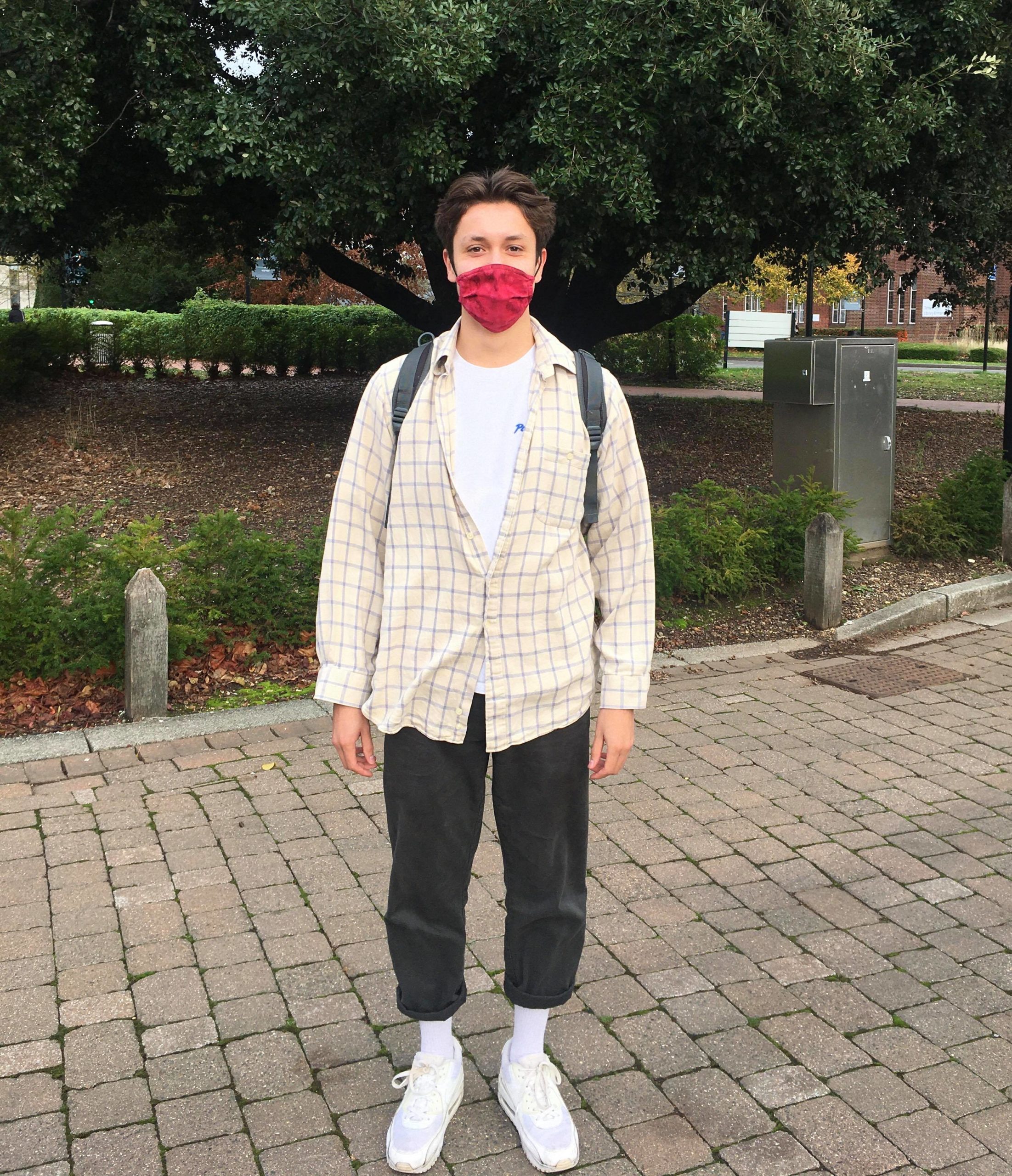 Jonny embraced the accessory of 2020 with a striking red mask which stood out against his cream check shirt and washed-out grey jeans. His old school look was completed with some fresh white Nikes and high ankle socks.
Violeta, Fashion Management
Violeta was looking pretty in pastel pink. She wore a sleek satin skirt whilst braving some boujee lace-up boots. She even chose to wear peachy socks to coordinate with the lighter shade of her sheepskin cropped jacket.
Andrea, Music
After grabbing a coffee at Pret, Andrea was seen looking sophisticated in his tartan layers under his long black jacket and scarf. His suede grey shoes matched the top half which balanced out the outfit well.
Next time you head to campus, try and match the standard of these students, I dare you.
Related articles recommended by this writer:
• Meet the Soton student who launched her own clothing brand over lockdown
• Owner of Oceana warns the club is at risk of closure
• Here are 10 vegan restaurants in Soton you need to try right now