All the disasters you'll live through at Mayflower Halls
Everyone can hear everything, I promise
So, you've decided to splash the cash on one of the University's more modern halls! Living in Mayflower means you are right in the city centre which has its perks, like being close to West Quay and getting the full use out of your free bus pass, but that does mean you're also closer to being scammed by people on the street – and a very unique set of things that will definitely go wrong.
Consider this your warning, here are the 20 disasters you'll encounter during your time in Mayflower:
1.    The 6am fire alarm
Half the time you won't even get down three flights of stairs before the all-clear is given. A big F for your hangover.
2.    One (or all) of the lifts breaking down
Long day? It just got 16 flights of stairs longer.
3.    Courtyard roulette
You've just got into bed after a terrible night at Cafe Parfait. You're half asleep when the NIGHTLY game of Courtyard Roulette starts up. Cheating BF? Massive rave? Trolley jousting? For the love of God, take it inside. It's 3 am. Everyone can hear you.
4.    Loud sex
I'm pretty sure at the right time of day, you can be heard in the block opposite. I don't care how big it is, Billy – SHUT THE FUCK UP.
5.    Flooded everything
The showers are too powerful for the drains. The freezers become icier than the side of the Titanic. Go get the Oust because you won't ever get rid of the smell of damp furniture.
This guy found out the hard way.
6.    Being too slow at a fire drill
It's already too early (4 pm) for this, but unless you race down 10 storeys Student Life will find you, and they will bollock you. I just wanted my shoes, Diane.
7.    Maintenance
Good news! They're coming to change your manky curtains! Start showering fully dressed because they'll be there at literally any point in the next three days.
8.    Lost keys
You've forgotten (or even worse, lost) your key fob. You can't get into the flat, the building, or even the complex. Luckily, Reception is here to help you out with the worst walk of shame you'll ever do.
9. The cleaners will remove your bottle collection
Student Life have struck again, and you've been told to take down your well-established collection of bottles, nay, trophies. You've been at war with the guys in Block C all Freshers', you need this win. You leave them up, only to come back to a bare kitchen. DEVASTATED.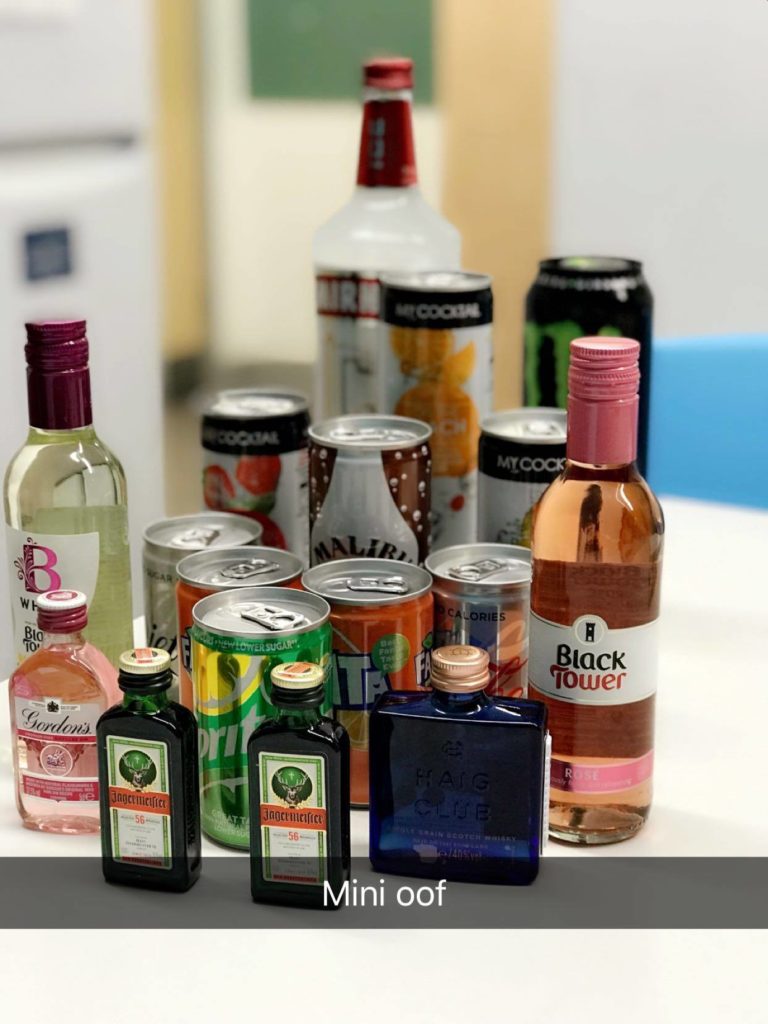 10. The walk to Oceana
It's short enough, right? You've had a couple drinks and you think your beer jacket will be enough. You have never been more wrong in your life. Sure, you might make it back warm enough, but that 10-minute walk there will feel like an eternity. And you'll never learn.
11. Having a noisy flat the other side of the wall
You know their names, their mum's birthday, and the name of their sister's first boyfriend's dog – but you'll never actually see them.
12. Missing the U2 and waiting three decades for the next
You could just walk to Civic Centre, but fuck it. At least it's not the U9.
13. Being called a "rich kid" for staying at Mayflower
Chances are they spent their trust fund on a Fiat 500 and a trip to Ayia Napa and are now jealous of your en suite.
14. Spending half of your student loan at the Co-Op
£4.50 meal deal???
15. Shopping alone and involuntarily doing arm day at Asda
NEVER underestimate how long the distance is – that 24 pack of Stella doesn't seem like a good idea anymore.
16. Buying a sports and wellbeing pass for the gym downstairs
"It's so close, I'll definitely use it!!" – no. Wave goodbye to that £200 because you'll set foot in that gym twice.
17. Split bin bags
"This could happen to me at any halls, why just Mayflower?", I hear you ask. This will happen to you when the lifts are broken and you're only halfway down the 10 flights of stairs it takes to get to the basement. Why did it split? Someone threw away a knife.
18. Actually using the fat trap
It stops the sinks clogging and stinking out your apartment… in theory. The cleaners will never remove the bloody thing like they're supposed to (chucking it straight in the bin is in fact illegal according to Student Life) so you'll end up with a congealed bag of oil and grime on your kitchen counter. Nice.
19. Zoning out in the kitchen… and looking straight into someone's bedroom
I'm not deliberately looking at you! Close your curtains!
20. Living in permanent darkness
See above.
So there you have it! A checklist of things you will definitely come across at Mayflower. At least you'll have new mates to experience it all with.
Related articles recommended by this writer:
• What the Soton road you live on says about you
• 'You're so exotic', and other things ethnic minority Soton students have heard whilst dating
• Soton confirms Chamberlain freshers not involved in gathering won't be disciplined