Soton's Easter ski trip cancelled as resorts close due to coronavirus
The trip to Andorra had been planned for April
Southampton Uni's planned Easter ski trip has been cancelled, The Soton Tab can reveal.
The trip had been planned for April, during the Easter break, at the Pas de la Casa resort in Andorra, but yesterday ski resorts closed for the remainder of the season due to the Covid-19 pandemic.
Southampton Univerity Ski and Snowboard Club (SUSSC) told The Soton Tab: "Our Easter ski trip has had to be cancelled sadly.
"Ourselves and the travel company NUCO wanted it to still go ahead but as of yesterday all ski resorts in Andorra (and the rest of Europe) are closed for the season."
SUSSC said: "Although, even without the resort closing, with things as they are it's the right decision to make."
"We're all devastated, everyone was really looking forward to the trip."
An email sent to the students by the travel company that organised the trip, NUCO, says: "With the accelerated spread of coronavirus we regret to inform you that your holiday to Pas de la Casa has been cancelled.
"The ski area has made its own decision to close for the rest of the season as of tomorrow. Given the mounting travel bans that are coming into force due to coronavirus it is difficult for us to offer a reliable alternative option. Regrettably, we are left with no choice but to cancel your trip. Refunds will be processed.
"We know that, although snow sports is our passion, it is by no means a priority at these unprecedented times."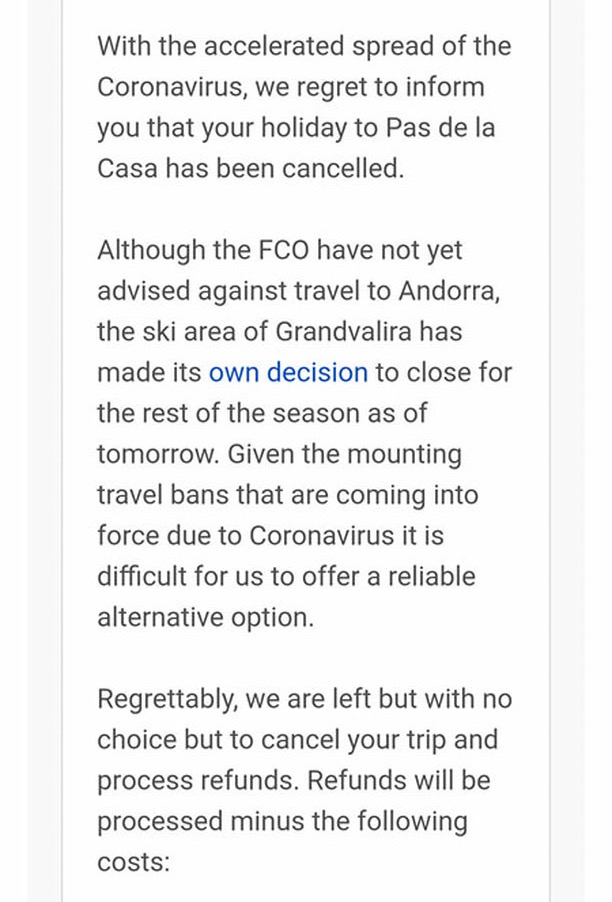 Yesterday, students on York's ski trip were told their French resort had closed, just hours after arriving in the country. This was due to the French government closing all non-essential public areas or gatherings at midnight yesterday.
Sussex and Sheffield's Uni ski trips, both also to Andorra, have been cancelled, as has Bristol's trip to Les Deux Alpes.
Featured image via SUSSC Instagram @susscagram
Related stories recommended by this writer:
• Varsity has been cancelled because of coronavirus
• Graduation postponed and university closure due to coronavirus outbreak
• There has been a confirmed case of coronavirus on Soton's campus