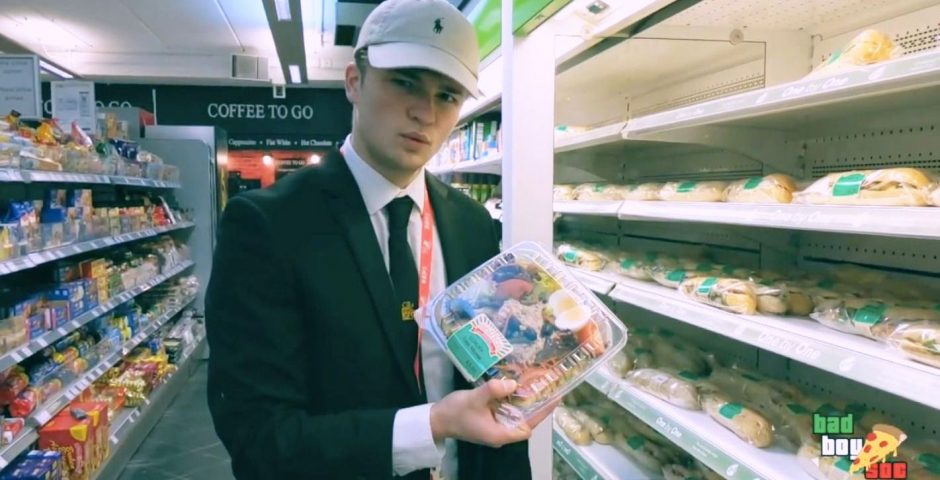 Meet Henry Hill: The vibiest SU presidential candidate running in 2019
He's got red sliders, a Ralphie cap AND he's single
At universities all across the country, Students' Union elections have begun. This basically means a lot of bumout students promising "positive change" by singing out-of-tune in a campaign video and sticking badly photoshopped posters all around campus.
However, one Southampton student campaigning for the role of SU President has managed to change the game this year. Henry Hill (even his name is a bit sexy) has used his excellent fashion sense, charisma and even a drone in his video to become a very big vibe.
Here's everything you need to know about "President Hen".
At the beginning of his final year studying Sociology, Henry, along with two friends, started The Bad Boy Pizza Soc – a society of stylish students who get together to eat pizza and post v aesthetic pics on their Instas.
This gained him a lot of attention among Soton students as a fit guy who eats a lot of pizza, but he certainly took everyone by surprise when he announced that he was going for the role of SU president.
His three-part campaign videos have been the talk of campus
While every other candidate was following the campaign video tradition of bad lyrics and awful miming, Henry's first video exceeded our expectations and managed 8.3k views and nearly 100 shares on Facebook.
The video included Blue Planet-worthy drone footage, a great backing track and very catchy lyrics, which left everyone singing "Portswood local resident, vote for Hen for President". And if you're wondering if he's single, good news! He is!
The second video was in the style of the Youtube Genius channel, and gave him the opportunity to explain his manifesto points – sounds boring right? Well it wasn't, thanks to the bright yellow background, funky music and irresistibly husky voice. If you're not aware of Genius, check out this one here, then watch Henry's attempt below and admit he's absolutely nailed it.
The third and final vid shows Henry campaigning to staff and students around Southampton Uni, but in slow motion, with a super emotional backing track to show that he's very in touch with his feelings and isn't afraid to show it.
From flower-print trousers and fur coats, to a Ralph Lauren cap and suit, and even an undone Hawaiian shirt worn over a hoodie – this boy knows how to dress himself. He even rocked red sliders and yellow socks which definitely shouldn't have worked but it just did.
In his spare time he's actually just a normal student, like you
Unlike many candidates who either make campaigning their whole life or outside of campaigning don't really have a life, Henry spends his days like most students – going out and having a medium-to-large amount of fun. You can usually catch him at the Gordon Arms pub quiz in Southampton, he also "dabbles" in DJing and can eat a whole pizza in under a minute.
If you want to check out his three campaign videos or maybe just ask him on a date, head to his campaign page on Facebook.