A Soton fourth year has made a PowerPoint-style Tinder to prove he's marriage material
He can cook and has Netflix, what more could you want
After a girl tweeted screenshots of fourth year Mechanical Engineering student Rizal's PowerPoint-style Tinder profile, he got his own back in the only way he knew how – by taking the piss out of himself.
Rizal's Tinder is full of photos, the promise of trips to Sainsbury's, and even has a four-star rating from his Mum – what more could you want?
His Tinder has a classic presentation-style layout, giving the reasons you should swipe right on him, as if it were a PowerPoint presentation.
Rizal spends his time "wondering what to do" with his life – don't we all, Rizal, don't we all. His other hobbies include spending every Thursday night at Stags' Karaoke, belting out The Script and "making nicknames for people".
Rizal's Tinder has been successful in the past. When he was sixteen he had his "first ever date and first proper kiss" with a girl he met on there, and the two even dated on-and-off for a while. He's since been in other relationships but has been single for the past two years.
In the "Qualities and Services" section of his presentation, he explains that he's a "family man", has a good sense of humour, "once got 17k retweets" and has "good fitness and stamina" (with a winky face) – there's no doubt, he's a catch.
A student from Brighton, posted screenshots of his profile, asking "why do people do this shit?" and calling the people who make these presentations "lame".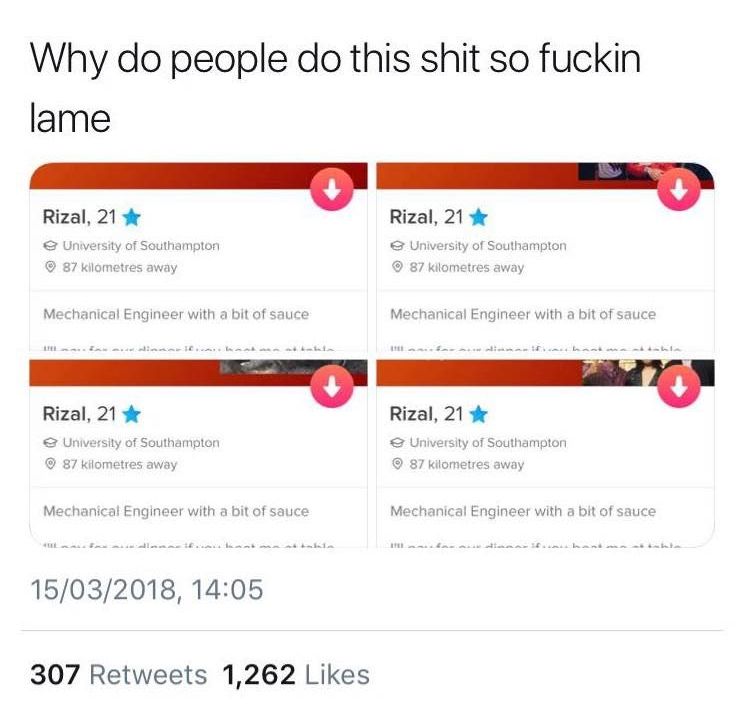 When Rizal was sent the girl's tweet last week he initially didn't want to respond, but eventually felt an urge to quote-tweet it, in his usual "self-deprecating manner".
Rizal quote-tweeted it and gave the brutally honest answer to her question: "Cos I'm ugly".
Rizal's tweet has since gone viral, with everyone saying they actually love his profile and would defo swipe right – she clearly doesn't know what she's missing.
The positive replies Rizal's tweet received included a girl saying "damn I think it's actually super cute, I'd super like tbh" and a guy admitting, "real talk, I'd swipe right and I'm straight".
Rizal has had other tweets go viral. Last March one of his tweets racked up over 50,000 likes – even Lily Allen liked it.
Ladies, if you're interested, DM his Twitter here.