We interviewed people in Jesters about their toilet habits
Last week it was World Toilet Day, so we went to Jesters and asked some of the big questions.
On Thursday it was World Toilet Day and obviously it's a very big day indeed for us here at WaterAid. So, to mark the occasion, there was no place more fitting than Jesters to ask the intellectual elite of Southampton about some of the more pressing issues of the day. Here's what they had to say:
Paris, 19, Fashion Marketing
What's the most profound thought you've ever had on the toilet?
'What if I fall in.'
George, 18, Physics
What's the biggest problem you've ever solved on the toilet?
'I wrote an email to my tutor saying I wasn't going to make it. I knew this one was going to take too long to make the bus.'
Harry and Rachel, 19, Marine Biology
On a scale of 1-10 how happy are you right now that it is World Toilet day?
'My flat mates never pay for toilet roll so I'm not that happy.'
Prabin, 18, Geography
Give me a brief description of what you imagine happens after you flush?
'Umm goes to landfill or something, I dunno.'
James, 19, Philosophy, and Sophia, 19, History
What emotions do you feel upon finding out that 1 billion people in the world do not have access to a toilet and running water?
'That upsets me a lot, I don't like it.'
Barney, 18, Geography, and Dom, 19, Medicine
Our biggest dream is to see everyone in the world have safe water, hygiene and sanitation, what's yours?
Barney: 'Getting laid'
Dom: 'Getting laid more than Barney'
James, Callum, Tom and Ezikial – Freshers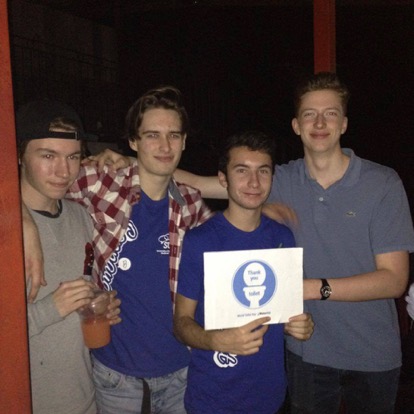 What more do you think the world's super powers should be doing to solve the world's water crisis?
'Jesus, umm. Wait who's drink is this by the way? Umm to be fair if I knew that I'd be Mister Cameron.'
Katey and Valentine, 19, Marine Biology
As we're in the palace of dreams, what do you dream WaterAid can one day achieve?
'Take down Seaworld. We're marine biologists, so save the fish from the fisherman. If you delete that I'll kill you. If it was just fish and no humans the world would be so much better, you can delete that if you want.'
Alex, 19, Business Studies
If you permanently didn't have access to a toilet and running water, what would you do?
'To be honest, I feel that you should be free to let loose wherever you are. At the end of the day we're human beings.'
Laura, 19, History, and Tash, 18, Accounting and Finance
Where's the worst place you've ever had to do your business?
'In here.'
Thank you to everyone who came, we had a great time and hope you did too! Look out for us on campus, as we'll be up to something soon and in the meantime if you're feeling philanthropic then please do feel free to donate at http://www.wateraid.org/uk as under the 'deliver life programme' any donations between now and February will be doubled by the government.
And to the man who said he would make 'bare p'. We hope you do and look forward to your donation in the near future.