Review: Common People 2015
This weekend saw the first ever Common People festival in Southampton. Paying homage to Pulp's seminal hit "Common People" and the fact it was indeed located on Southampton Common, the […]
This weekend saw the first ever Common People festival in Southampton. Paying homage to Pulp's seminal hit "Common People" and the fact it was indeed located on Southampton Common, the festival kicked off with a hype that Southampton has rarely been known for.
Firstly, if there was one thing to be thankful for this weekend it was that it didn't rain meaning there wasn't that murky feeling of misery floating throughout the site like a lot of festivals.
The interesting thing about Common People is that it had combined household name artists such as Fatboy Slim, Clean Bandit and Band of Skulls with the absolutely unknown- which made this festival perhaps more about the experience rather than all your favourite bands piled onto one lineup.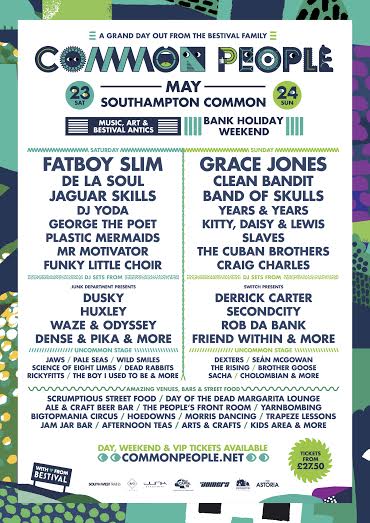 The Uncommon Stage, played host to a variety of "uncommon" acts apart from hotly tipped indie outfit 'JAWS'. All throughout the arena there were young teenagers sporting JAWS merchandise, showing that this band definitely had a following.
On the Saturday, I managed to catch Jaguar Skillz perform, or if that's what you can call it. What many may have called performance, I called a shambles, in which various popular songs were poorly mixed together with an awful backdrop that reminisced upon the days of SNES and Sega games.
After this I managed to catch snippets of hip-hop royalty De La Soul, who really tried to bring the crowd together through a frenzy of old school hip hop, even if no one knew the words. Their ability to get the crowd going by using the old "is the left or right of the crowd" technique went down well, and many were sucked in by the nostalgia of classic hip-hop.
On the Sunday, it was clear that most of the acts performing were definitely for a younger age group. Many, including myself, waited eagerly for new kids on the block Years and Years to take to the stage and deliver their exciting synth-pop, led by frontman Olly Alexander.
Despite various sound problems, Years and Years delivered an interesting set which was finished off by their hit 'King', in which everyone in the crowd sung the words back to Olly as he did his best Axl Rose impersonating with his snake-esque prancing.
Afterwards the crowd was greeted to the sounds of really the only authentic rock band that weekend- Band of Skulls. Their infectious blend of Led Zeppelin riffs and charisma really took the crowd by storm as many shouted the band's name over and over. This may have been one of the stand out acts of the festival as they really stood out in a festival dominated by electronic music.
With Clean Bandit up next, it was clear that this may just be one of the highlights of the weekend. The chemistry of the band was incredible as they drove through a set including their recent hit 'Rather Be' including covers of 80's classics.
Many ladies swooned as their dashingly good looking violinist pranced about the stage, but were left dismayed when someone turned to them and said "You realise he's seeing the singer of Years and Years?". It was as disheartening for female followings as when they found out George Michael wouldn't be taking an interest in them any time soon.
Wandering around the arena, it was clear to see that quite a lot of planning and consideration was put into place. It wasn't easy to get lost and the only reason you may have to have done so, is if you were completely off your face- which many people were. Like all festivals, there was an abundance of overpriced festival food, but there were so many to try from that I wasn't sure which stall to be scammed by. I did settle for the Caribbean Jerk stall which looked the most authentic with its choice of traditional home-made Caribbean food.
I did manage to blag VIP passes (somehow) and spent a duration of my time within the glorified NOOK VIP enclosure which comprised of nicer seating arrangements and an assortment of cocktails. Many artists could be seen chilling out talking to fans, along with curator Rob Da Bank taking some time out to pose for photographs.
Unfortunately, I didn't see either headliner-Fatboy Slim or Grace Jones. But seeing as they were a major part of the weekend, I asked Lucy, a third year Geography student who had a weekend ticket, what she thought:
Fatboy Slim absolutely smashed it! He had the entire crowd jumping for his whole set. Definitely my favourite act of the whole weekend.
I personally wasn't a fan of Grace Jones, and judging by the size of the crowd, neither were a lot of people. The audience seemed very disengaged during her set. But wow, what a woman!
As a whole, Common People was a triumph and in it's first year it is clear to see that this festival has a lot of potential to become a household name on the festival circuit. The festival was essentially the lovechild of Bestival and a fun fair, and there was the similar decor of Bestival which gave off the impression that this festival had the potential to be held in the high esteem that it's bigger cousin was.
However, if next year is to be a success, the organisers really should take into consideration the fact that the two surrounding universities have not finished exams, which meant there was a loss of students to make up the numbers. Next year however may be set to play host to bigger names, who will certainly put Southampton on the map for all the right reasons.
What did you think of Common People? Let us know in the comments!