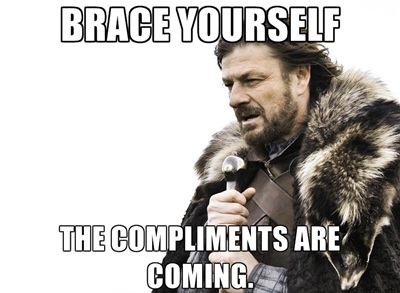 Southampton Uni Compliments: the procrastination escalates
In light of the recent Southampton Uni Confessions page, a kind soul somewhere has come up with a new creation – 'Southampton Uni Compliments'. The way in which the page […]
In light of the recent Southampton Uni Confessions page, a kind soul somewhere has come up with a new creation – 'Southampton Uni Compliments'.

The way in which the page works is of a similar vein to that of its successful counterpart, with users submitting predominantly anonymous stories (although there is the option to post under your own name); the difference being, however, that it aims to 'spread smiles' rather than publicise scandal.
Several heartwarming posts have already been submitted:
Thanks to the girl who helped me pick up the contents of my wallet when I dropped most of it on the 2nd floor of Hartley :).
… as well as some entertaining ones.
To my lecturer who cancelled seminars for 2 weeks to allow us time to do our assignments, you have no idea the depth of my love for you right now.
The page is also a place for those who have found a lucky other half to state their undying love:
A massive thank you to my Davey Wavey Gilany – for being the best Sabb there is and super sexy and a PHENOMENAL lover 😉 xoxo
D'awww.
The page has also already been responsible for a new romance! This post…
At the risk of sounding incredibly corny, I know this pretty girl in my year has joined the page, just wanted to thank her for smiling at me the other day, I've been crushing on her for sometime now. You brightened up my day then.
…received a RESPONSE from the girl in question:
Thank you for coming up to me and telling me you like me, it made me feel very special. Am glad we are going out on a date this friday. :)PS: Thanks to creator of the page, you're doing a fab job!xx
But will the page take off to the same extent as its scandalous equivalent? While the Confessions page received over 1000 likes within its first 24 hours of existence, the Compliments page has received only 437 (at the time of writing) in just over 3 days.
So will Southampton students find sharing sweet stories as satisfying as spreading scandal? Let us know what you think in comments!