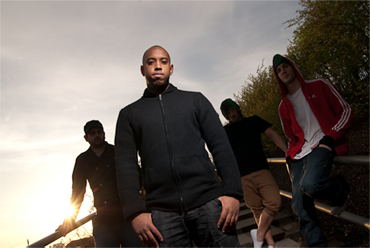 Quintessentially Southampton, Part 2: LST
Southampton based wordsmith Leigh Samuel Taylor has wowed crowds all over the South of England and beyond with his unique blend of poetic and poignant lyrics rapped and sung over […]
Southampton based wordsmith Leigh Samuel Taylor has wowed crowds all over the South of England and beyond with his unique blend of poetic and poignant lyrics rapped and sung over a soulful yet energetic backing track provided by his 'mandem'.
Calling himself an urban storyteller, LST follows in his family's musical footsteps (his father worked with the likes of Chicane and Boy George) but creates his own unique style and flow. In tracks such as 'Levi Stubbs' Tears' (a collaboration with the great Billy Bragg) LST's sharp raps cut through the melodic piano riffs recounting stories of broken dreams and hard luck stories that form the characters that we see in the great city we call Southampton today.
Leigh took some time out to talk to us and answer some questions:
How would you describe your sound?
I would describe my sound as worthy to listen to. No matter what you like hip hop, RnB or indie rock there's something there for everyone.
How did you form the band?
I formed the band just before I got through to the finals of 'Road To Blissfields'. To help matters along, around the same time, I was approached by the drummer from Kosheen (Mitchel Glover), who was keen to join and is still a member of the band.
University students are often criticised for lack of integration into city life? What do you love/hate about this fine city?
How can I hate anything about this town. I was born here and I love it! I've heard countless times that in order to succeed in music you have to be in London but we're only an hour away so there you go!
Whats the best gig you have ever played and been to?
I've been to so many good gigs throughout my life but one that stands out the most is India Arie in Hammersmith. She was flawless and the support act was Floetry and they were also incredible. The best gig I've played so far was probably the 'Road To Blissfields' competition at Soul Cellar. I had just put the band together, we only had three rehearsals before going into the finals and we did it and it felt good. I remember when they announced LST as the winner, we were jumping around like we had just won the Champions League final on penalties… I'm getting goose bumps just remembering that feeling.
Who are your favourite talents from around the city?
There are a lot of bands and artists that I rate in Southampton, some of them are my close friends so it would be unfair to single out anybody in particular. But what I can confidently say is that the Southampton music scene is growing strong and definitely has its own sound.
You can listen to songs from the new EP  here 
You can catch LST in Southampton regularly playing venues such as Orange rooms, Joiners and The Cellar, here are his upcoming gigs:
Friday 3rd August
Man Like Me & LST @ Orange Rooms, Southampton
Monday 6th August
LST @ Barfly Camden, London