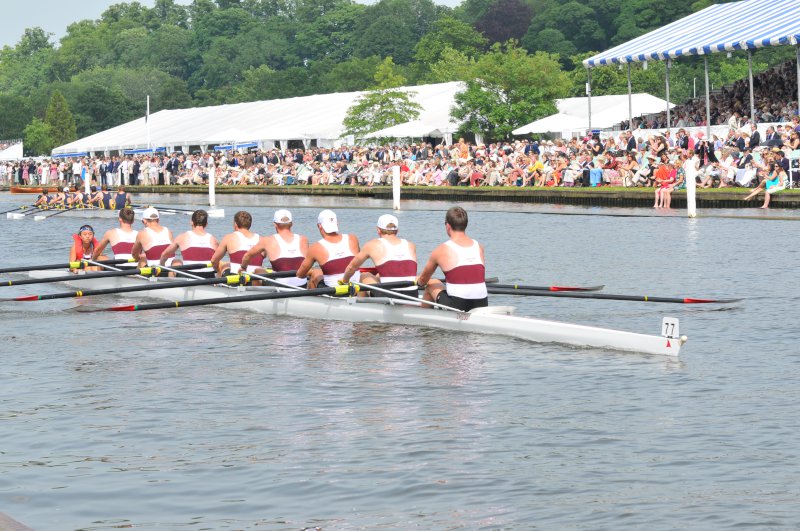 Southampton vs. Harvard at Henley Royal Regatta
Yes, you read correctly, this is not a typo! Southampton University Boat Club competed against Harvard University Boat Club today at one of the most prestigious regattas in the world; Henley […]
Yes, you read correctly, this is not a typo! Southampton University Boat Club competed against Harvard University Boat Club today at one of the most prestigious regattas in the world; Henley Royal Regatta.
For those of you unaware, the Henley Royal Regatta (HRR) is basically the Wimbledon of rowing and, to that end, clubs from all over the world descend on Henley-on-Thames from 27th June-1st July to compete in one of the most intensely competitive and well-known regattas of their rowing careers.
The Senior Men's 1st VIII of Southampton University Boat Club managed not only to pre-qualify for the prestigious Temple Challenge Cup, but also got through the first heat against Leicester to row against HARVARD University.
Remember the Social Network; the Winklevoss twins and that bit at HRR in which they lose to Hollandia Roeiclub, which furthers their fall from grace at the hands of Mark Zuckerberg?
Unfortunately this was not the case this afternoon, although Southampton certainly gave Harvard a run for their money.
Harvard managed to get two 8+ boats into the draw at Henley; 'A' and 'B'. Their crews are currently the US National Lightweight Champions and have the technique, power and ability to crush anyone in their path.
Enter Southampton! The 1st VIII managed to stay ahead and then level with the Harvard 'B' crew for a little more than half the race, causing mildy surprised commentators, who had previously thought that Harvard would trample their competition, to suddenly change faith.
Well, as Harvard are the National Lightweight Champions of the United States of America, I was expecting them to have walked this [won without a shadow of a doubt], but Southampton are having none of it. This is neck and neck!

– Regatta Radio commentator
Unfortunately, at the halfway point, Harvard managed to up the ante and kept their rate very high to edge away from Southampton, ending the race with a distance of 3 lengths between them as they crossed the finish line – not bad for SUBC's first attempt at taking on one of the best crews in the world.
Harvard University 'B' crew will tomorrow go on to compete in the Quarter Finals of the Temple Challenge Cup against Durham University at 12.05pm.
Note: If you are interested in taking up rowing please email [email protected] No previous experience necessary for Novice rowers. Southampton University Boat Club will resume training in September on the River Itchen.