Student occupiers claim they were 'locked' in The Hicks Building by university security
The students say they are exploring legal action for their alleged unlawful imprisonment
Student members of Sheffield Action Group claim they were "locked" in The Hicks Building by university security during their occupation.
The students were occupying the building on University of Sheffield's campus in solidarity with lecturers who are striking for three days this month, campaigning for better pay and pensions.
While occupying the building the last night, the students claim that security used D-locks, most commonly used for locking up bikes, to lock doors, including fire exits, allegedly preventing students from exiting or entering Hicks.
University of Sheffield has denied locking the students into the building, saying the students were free to leave whenever they chose to.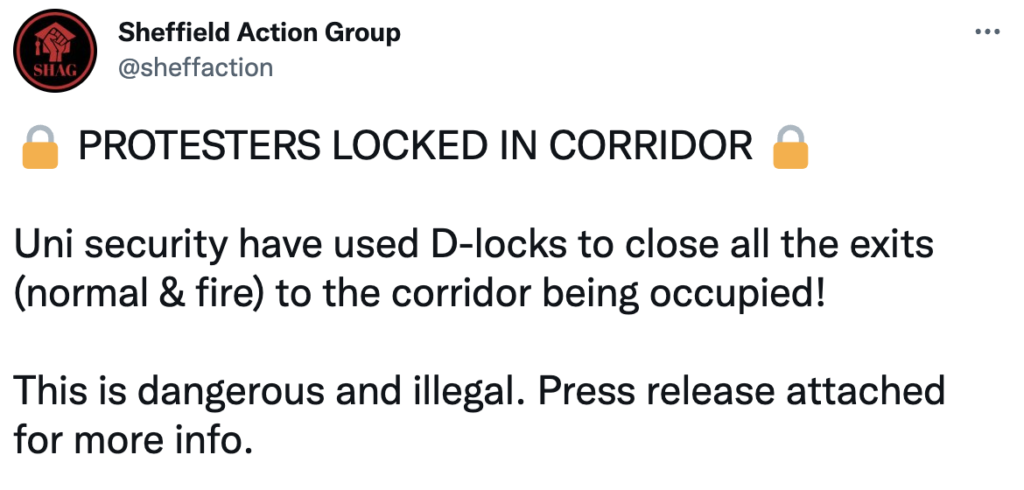 The occupiers have since branded the security's alleged actions as "dangerous and illegal" and claim the university was "endangering the lives of peaceful protestors".
As outlined in claims made by SHAG, the locking of fire doors is in contravention of Action 14, section 2(f) of the Regulatory Reform (Fire Safety) Order 2005, which says that "emergency doors must not be so locked or fastened that they cannot be easily and immediately opened by any person who may require to use them in an emergency."
The students say they are exploring legal action for their alleged unlawful imprisonment and plan to inform the fire brigade of the alleged breach of fire regulations by the university.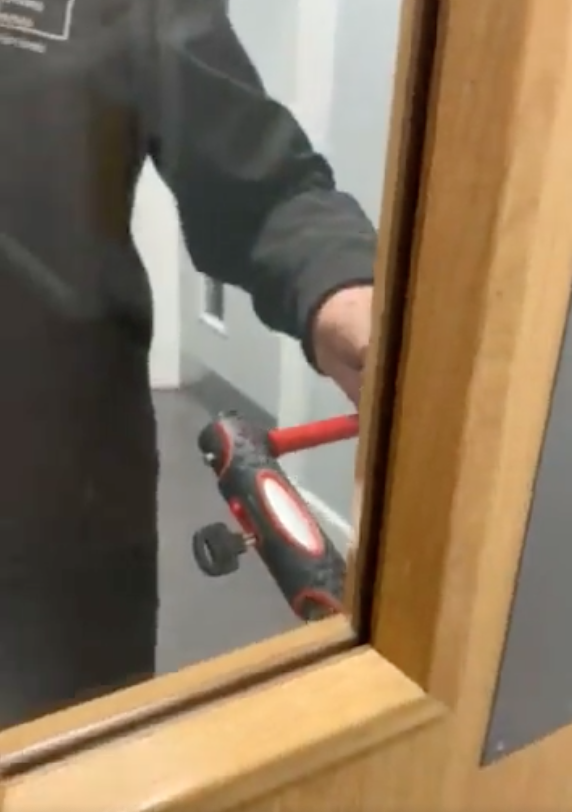 SHAG is now calling for Security Operations Manager Simon Verrall and Vice Chancellor Koen Lamberts to publically apologise and resign from their positions. 
One of the student occupiers said: "It is dangerous and unacceptable that University management would endanger the lives of peaceful protesters in this way. We are here to demand dignity and better conditions for their staff, a struggle which has been fought for by the whole University community for years.
"They treat student protesters the same way they treat their staff; with callous disdain and reckless indifference. The Security Operations Manager Simon Verrall and the Vice Chancellor Koen Lamberts know what they're doing and don't care. They should both apologise publicly and resign."
A University of Sheffield spokesperson said: "Last night a small group of people occupied the Hicks building on the University of Sheffield campus.
"We support peaceful protests at the university, but this group of occupiers had told us their intention was to disrupt University teaching and work.
"Our priority is to minimise disruption for students as much as possible, so our security team worked to contain the occupiers in one area of the building. There were members of security at the doors at all times and the occupiers were free to leave the building at any time.
"The current UCU action are national strikes planned for three days in November. At Sheffield we have taken a number of steps to support our staff. In addition to the three per cent national pay award, staff at Sheffield have been given further increases of between another three to 6.5 per cent (six per cent – 9.5 per cent in total).
"Following discussions with our trade unions, the University has also given an additional £1,000 payment to all University staff (except the University Executive Board). These increases mean that many staff on the lowest pay grades have had pay increases of around 22 per cent since last year."
Related articles recommended by this author:
• Sheffield students occupied The Hicks Building in solidarity with striking lecturers
• Sheffield students disrupt careers fair to protest the university's ties to arms companies
• Sheffield students are occupying The Diamond to protest the uni working with arms companies