I put Henderson's Relish on all of my meals for a week, but how would it taste?
Imagine how much free advertising they're getting out of this
What is Sheffield most famous for? Arctic Monkeys? Nope. Sean Bean, I hear you say. Good answer, but also wrong. The Full Monty was set in Sheffield, yeah, but that's also not what I have in mind. I can't put The Full Monty or Sean Bean on my meals, can I?
You're on three wrong answers, the Chaser is catching up to you, your team is waiting with bated breath to see if you will return with your meagre £2000 (you really fucked up that opening sequence of questions, didn't you?). Bradley Walsh is in your ear, sniggering at a Fanny Chmelar joke. I'll put you out of your misery – Sheffield is famous for Henderson's Relish.
For those of you who are not au fait with Henderson's Relish, I'll be honest with you, it's just Worcestershire Sauce but made in a slightly different way (there are no anchovies in it). It has near enough the same bottle too, sort of like how Aldi sells Norpak butter instead of Lurpak butter and you wonder how on Earth they can get away with such audacity. Wikipedia describes it as "spicy and fruity", and listen up millennials – it's vegan.
Sheffield loves Henderson's Relish, or Hendo's if you want to culturally appropriate, and in fairness it does taste great. On most things.
I stress "most things", not just because I want to flex my linguistic muscles (I'm fully flexing right now, I'm practically in the gym in my GymShark vest standing in front of the mirror, flexing my super-wide shoulders. Look at how wide I am. Absolute unit), but because, as we will find out, Henderson's Relish does not taste good on everything.
So, to find out what Henderson's does taste good on, I cooked and ate with Henderson's for a week to see what it would taste like on a bunch of foods I eat on a regular basis.
Day One
Stir fry. If you could sum up student life with a meal it would be stir fry. I've never met anyone who has managed to fuck up a stir fry, and that includes me, a man who gave himself food poisoning in the first week of uni from spaghetti bolognese.
Usually, I would cook my stir fry using soy sauce and various spices, but for the purposes of online content I'm going to use Henderson's instead. First I marinated the chicken in Hendo's, before frying in a pan with seasame oil and some more Hendo's; I consistently added more relish throughout where I would normally use soy sauce.
Outcome: It. Tasted. Good. I was expecting it to taste overpoweringly like Worcestershire Sau- I mean Henderson's Relish, but in truth it was merely a secondary flavour. So far so good.
Day Two
What's one thing student's love more than stir fry? No, not TV stars from our childhood doing club appearances, I'm talking about pasta. Using the same methodology as with my stir fry the previous evening, I marinated the chicken and added Hendo's throughout.
Outcome: It didn't taste great. Don't get my wrong, it didn't taste bad, it didn't taste like your mouth does when you wake up the morning after a night out, no – but it didn't taste amazing.
Day Three
I made a salad, I cooked some breaded chicken, I put Hendo's on said salad and chicken. BOSH.
Outcome: It was excellent. This is what Henderson's was made for – salads and regional pride.
Day Four
I've written this kind of article before, where I ate food from the reduced food for a week, and there was no excitement when it came to shopping, when it came to cooking, or when it came to eating. I ate a children's chicken and potato pie goddammit.
Eating with Henderson's was entirely different.
A perk of my job is getting a free roast dinner on Sundays, and you better believe I covered it in Henderson's Relish. Someone put their time and effort, their hard-earned culinary training, into making me a Sunday roast, someone who is my work colleague, someone I consider a friend. Yet, like a friend ditching you on a night out to literally just go and run around on their own, I took that Sunday roast and I just smothered it with Henderson's.
Outcome: "It's for The Tab", I've found myself saying at an exponentially increasing rate, and this is no different. My God it was worth it.
Bonus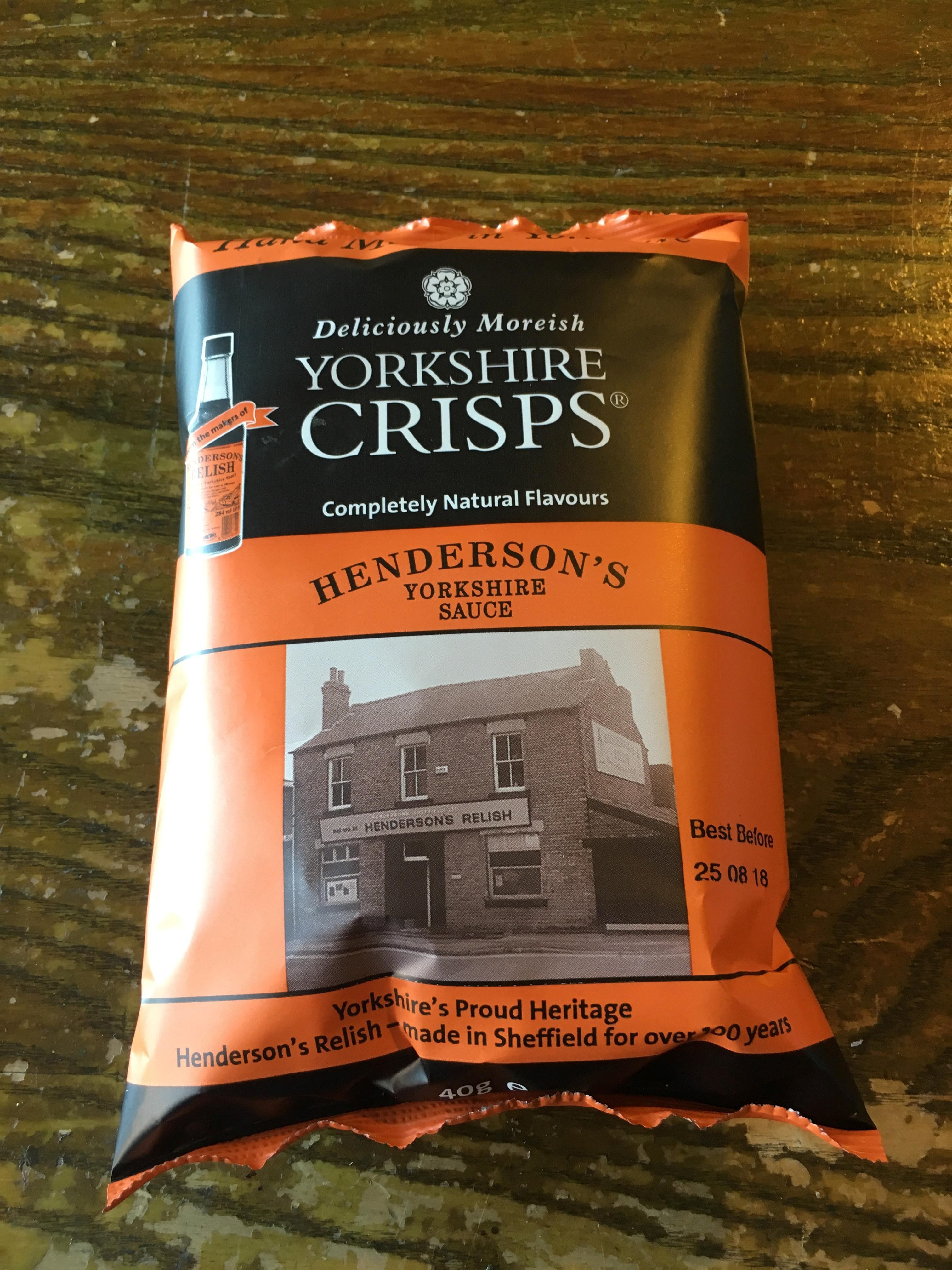 You can get Henderson's Relish crisps. You know how there's an M&M World in London to sell more M&Ms, and, let's be honest, there is no need for it, nobody is horny for M&Ms. M&Ms are a second-rate chocolate, if you're going to build a shop in honour of chocolate it should be in honour of Maltesers and Maltesers alone. But anyway, Henderson's Relish crisps exist to sell more Henderson's Relish.
Outcome: Putting Henderson's Relish on Henderson's Relish crisps was the most meta experience of my life.
Day Five
I don't cook every night, my life isn't that together. I will only consider my life together when I stop looking at my bank balance and thinking "oh I really spent that much money this week?" despite the fact that I know I spent that much money this week, was fully aware I was spending that much money when I was in the act of spending it, and preemptively knew I would probably spend that much money this week before this week even begun. So I ordered a McDonald's.
Outcome: Don't put Hendo's on McDonald's, not because it didn't taste nice, because it did taste nice, but because when eating McDonald's you should be fully aware that what you're putting in your body is terrible and no amount of "spicy and fruity" (Wikipedia, 2018) condiments will change that.
Day Six
As we all know, garlic bread is the greatest thing the western world has produced. If garlic bread was a person it'd be that guy who pays for the taxi knowing full well that no one will "buy him a drink inside", it'd be your flatmate who lends you some milk with no passive aggressive connotations, it'd be all of the dogs. Pizza? Great stuff, more of a side to the garlic bread if you ask me, but still great stuff.
Outcome: Garlic bread with Henderson's tastes like arse. Garlic bread with Henderson's is taking the minus offer on The Chase, it's walking really slowly in the street, it's walking into a pub and asking for Carling without bothering to look if they have Carling.
Day Seven
I'm back at work and I'm back disrespecting the hard culinary work of my colleagues. I got a burger – cajun chicken, spicy shredded chicken, jalapeno cheese – and put a load of Henderson's Relish on it. So much Henderson's. It's the last day of this experiment, who cares anymore. Kudos to you for reading this far.
Outcome: Not going to lie, I couldn't taste it. Maybe that's a good end to the week, maybe it's a disappointing end to the week. We'll see how well this does for views then decide.
Conclusion
You know when contestants on The X Factor get knocked out early on in the live shows and they say something like "this isn't the last you've heard of me"? And then they go on to perform on cruise ships and at Butlins in the off peak seasons? This is how I feel about my week with Henderson's Relish.
I've spent a week cooking and eating with something I've not eaten much of, and on some occasions, such as with my Henderson's stir fry, I've felt like I might cook with this more often. Yet I know I won't.
Like an X Factor contestant insistent that this isn't the end of their career, maybe I'll cook with Henderson's again when it isn't for the purposes of online content. But in the back of my mind, like the reassuring and omniscient smile of Dermot O'Leary, I know this will never happen. Goodbye, Henderson's Relish.