Everything to do in Sheffield if you're single this Valentine's Day
Things which don't involve weeping into your pillow to sad love songs
Valentine's Day is here and it's impossible to ignore the expressions of commodified love bursting from every shop window, Facebook advert and events around the city.
However, recent years have seen a rise in single people reclaiming the holiday. You are as likely to hear people talking about Galentine's or anti-Valentine's Day as you are to hear couples gushing over their romantic plans. Single people know how to do Valentine's creatively. A candlelit dinner is cute, but getting wine drunk with your friends is more fun.
Celebrate Galentine's at Leadmill
Leadmill are hosting a special Galentine's event this Wednesday. The evening begins with a Mean Girls screening. Make sure you dress appropriately because "on Wednesdays we wear pink." Stick around for the club night afterwards if you want to celebrate being single ladies by dancing to Beyonce, Rihanna and Girls Aloud.
Corp Wednesday
If you want to get messy drunk this Valentine's then Corp is the place to be. Switch your blue pint for a red one if you're feeling festive. However, we can't guarantee that the cheap vodka won't make you cry in the taxi on the way home.
Watch Romeo and Juliet at Abbeydale Picturehouse
Sure, this film is a classic love story so the venue will inevitably be rammed with couples, but if anything 'Romeo and Juliet' warns you of the dangers of falling in love. Better off being single.
Valentine's Roar
Valentine's Day won't stop the sports teams from partying. Wednesday night has a Valentine's twist, with break up songs and love songs and Valentine's giveaways. Because nothing says love like necking a rugby lad and downing VKs.
Cry in the Peaks
Sheffield has an abundance of parks perfect for a scenic cry. If you really want to feel at one with nature whilst you let out your emotions though, the Peaks is the place to go. The desolate landscape reflects the loneliness of your soul and there are plenty of open spaces for you to scream about unrequited love.
Buy at least five bottles of wine in West Street Live with the money you saved on a present/fancy meal
If you're not feeling Corp, but still want to get messy drunk and dance, then head to West Street. Valentine's is more expensive for couples and you have to share everything, but if you're single you can afford at least five bottles of £4 wine in West Street Live with the money you saved on a couples' meal out.
Celebrate Anti Valentine's Day
Invite friends round to watch anti-love films and listen to anti-love songs. Black sambuca shots and a heart-shaped piñata are optional. If you fancy heading out afterwards, Reflex are hosting an anti-Valentine's bash where there will be black heart balloons and cheesy '80s music.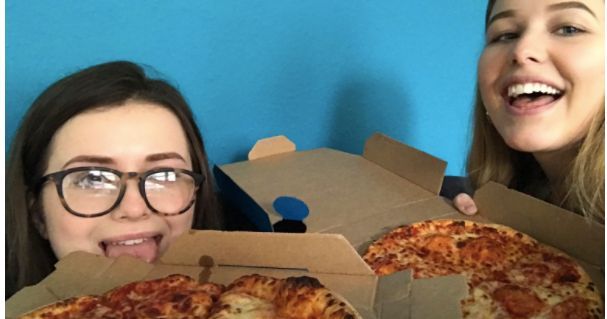 Spend the night in with the girls
Galentine's was invented for drinking wine, watching romcoms, pampering and eating pizza with friends. You could even do a Galentine's secret Santa and buy your friends gifts with the money you saved not having to buy anything for a significant other.