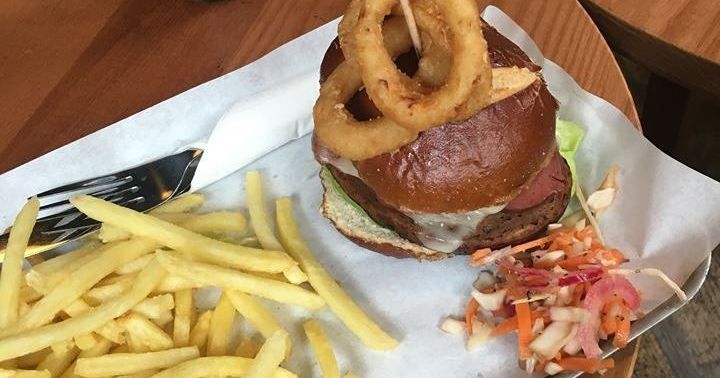 These are the best vegan hotspots in Sheffield
Oh did you think vegans just ate salad?
Veganism has grown by over 600 per cent since 2014, and with over 150,000 signing up to Veganuary this year it's still on the rise, causing restaurants to get on board or fall behind.
Dotted all across the city there's loads of specific vegan and vegetarian food joints, and even more places offering options, giving up meat in the steel city is easy-peasy. Fancy getting on the hype? Here are the best veg hot spots to try out.
Make No Bones
Make No Bones on Chesterfield Road is entirely vegan, but won't serve you the plate of veggies you might expect. Their menu takes meat-eater faves and makes them vegan friendly, such as a Philly cheesesteak made with seitan and their own vegan cheese sauce, kebabs, and even cheesecake. Changing their menu on a regular basis, this is a great spot to fill your meat fix without, you know, meat.
BurgerLolz
Abbeydale Road is the vegan quarter of Sheffield and home to loads of options but, if you want proper vegan junk food, BurgerLolz is the one. Boasting insane burgers and freakshakes, mac and cheese fries, vegan fish and chips and more, this little place is constantly packed and is a great choice that even meat eaters won't complain about.
Steel City Cakes
Vegan cake, vegan milkshakes, vegan hot chocolate. Cutting out meat and dairy doesn't mean kissing goodbye to indulgence.
Italia Uno
When all your mates are getting takeaway, Italia Uno is the vegan saviour offering an entire vegan menu, with loads of pizzas, pastas and desserts, as well as a gluten free or non-vegan menu. Authentic Italian delivered right to your door and not a trace of cruelty.
Humpit
For a grab and go lunch, you can't go wrong with hummus and pita bread. A quick and easy option, hummus will never let you down.
Sakushi
Saksushi on Campo Lane is a firm favourite. Their menu is well labelled so you don't have to read through long ingredients lists, and you'll certainly be spoilt for choice. Pro tip: sign up for a Saksushi card to get 10% off everything.
Twisted Burger Company
Going vegan doesn't mean you have to miss out on Harley lunch dates. They have a couple of regular vegan burgers and fries on their menu, as well as regularly doing vegan specials or collabs with other places. This is an easy option for a friendship group of carnivores and herbivores alike as all their fries are vegan, so you don't have give up sharing.
Zizzi
This is the one for family visits, offering a full vegan menu alongside their regular one, and they currently have discounts for people doing Veganuary. Loads of chains are beginning to offer vegan cheese, but Zizzi have got it so right with a big range of V friendly options.
Steamyard
If you hadn't noticed them beside the hypnotising cronuts, Steamyard has loads of vegan treats and cakes, and offers several different plant milks to fit your preference. Anything you can want, Steamyard basically has veganised, including donuts, Tiffin, Sandwiches, and Hot Chocolates.
Bar One
Bar One offers an amazing vegan menu right on our doorstep. With vegan cheese, mock meat, burgers, sandwiches, tacos and even ice cream sundaes, Bar One is changing the game for vegan students. They also do a Vegan Burger Club the first Monday of every month, offering two for one on all vegan burgers and adding new specials to the menu.
The Incredible Nutshell
For free from food shopping without the stress, The Incredible Nutshell is an entirely vegan grocery store on Chesterfield Road. It's a haven where you never need to check the ingredients list, and all your cravings can be fulfilled. You can also order online for home delivery for extra ease.
The Steel City makes it easy, you'll never have to suffer through another salad again.