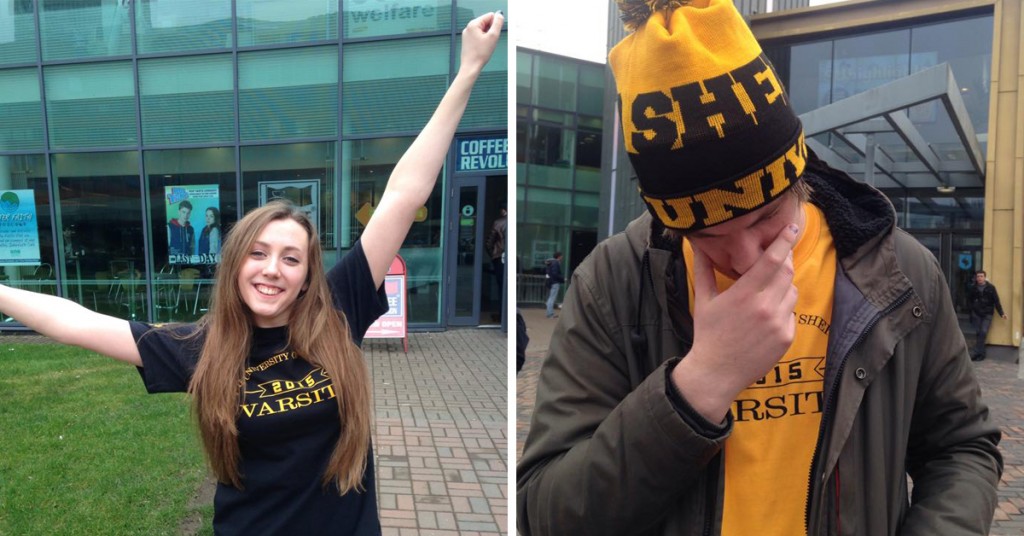 The 2015 Varsity garms are officially in stock
noad
Every year the SU brings out a new range of garbs available from "Our Shop", and we potentially love the 2015 collection more than we hate Hallam.
The black t-shirt is obviously the one true essential of the selection – you shouldn't be seen at the ice hockey without one. A simple but effective design, Laura absolutely works it here, and simultaneously shows off our famous Uni of pep.
Next up is the more left-field 'gold' t shirt option. If yellow is more your colour, or if you just want to stand out on the sidelines this year then this is the shirt for you. Paired here with the brand new Varsity scarf, Calum loves this ensemble. Subtle. Bold. Fabulous.
Delving deeper into the trendy depths of Varsity accessorising, we discovered this masterpiece: the varsity beanie. Combining Nordic-chic with a contemporary post-modern disregard for seasonal trends, this year's must-have head-gear beautifully complements all head shapes and sizes.
Now for this year's curve-ball – last year's shirt. For the hipsters among you who wouldn't be seen dead in anything non-vintage, why not don the 2014 tee? Who wants to be dressed exactly the same as everyone else? Combined with a 10/10 example of blue steel you can't go wrong with the retro approach.
No fashion round-up would be complete without a mention of the King of Varsity gear: the Varsity jacket. Cosy and comfortable but also the height of pro-Uni jingoism.
Nothing says bleed Black and Gold like this fabulous piece. Perfect for contemplating how much you want to smash Hallam, shown perfectly by the brooding Laura in this shot.
On top of all this gorgeous garb, this year you can also bring the anti-Hallam sentiment to your dinners in the form of Varsity Hendo's. Outrageous. A celebratory bolognese will taste that bit better when we win, especially if you use this relevant ingredient.
2015 is the year for Sheffield Uni to smash Varsity for the third year running, and for you to look fantastically fashionable in the process. "Go Hard or Go Hallam" is soon going to be re-styled as "Look Good or Go Hallam". Trust us.
Black and Gold is the new black.