Anti-arms protest ends in tears (with video)
Student protesters complain of minor injuries after refusing to leave a Careers Fair this morning.
arms
octagon
protest
removed
security
student
Scroll to bottom for video
A group of student protesters were forcibly removed from the Octagon this morning during a Careers Fair.
The "direct action" was part of Fund Education, Not War's campaign against the arms trade.
A number of firms involved in today's Engineering and Technology Careers Fair are involved in the funding, manufacture and distribution of arms.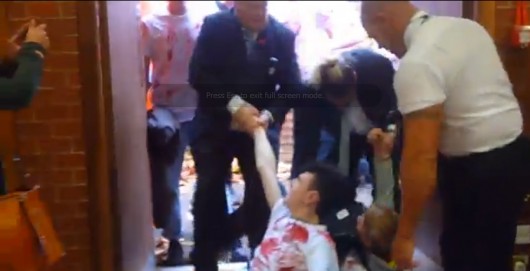 At around 11.40am, about a dozen students wearing t-shirts covered in fake blood attempted to disturb the Fair.
They were asked to leave by security at the event. When they refused, they were removed by security.
Some protesters are believed to have sustained minor cuts and bruises.
Several other student organisations were also involved in the protests.
Ruby Baker from Student Action For Refugees told The Tab: "The continued dealing of Sheffield University with such companies directly contravenes the Sheffield Student's Union 'Fund Education Not War' policy, adopted by the Student Union Council in October 2012.
"Through our actions today we hope the union takes steps in supporting our continued fight against the university's involvement with the arms trade."
Here's the video from Forge TV:
Did the protesters get mistreated, or did getting thrown out do them no 'arm? Let us know in the comments below…