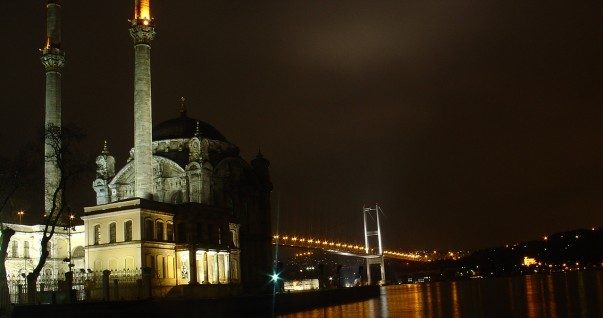 We were in a club 400 metres away as 39 people were shot dead in Istanbul
'People were jumping into the cold sea, desperate to escape and save their lives'
The mass shooting in Istanbul on 1st January 2017 marked the 26th attack in Turkey in last 12 months. The seven minute long massacre happened at around 01:15am at the Reina nightclub in Ortakoy, where numerous people were bringing in the New Year.
A fun night out turned into one of horror. People trying to get away, Reina being evacuated, people jumping into the cold sea in a desperate attempt to escape and save their lives.
We were in Majestueux Club, Ortaköy, 400m from Club Reina, when the attacks happened.
How the events unfolded:
1:15am: The gunman storms the Club Reina, 400m from Majestueux, reportedly firing more than 180 rounds. The attack lasts seven minutes. Barman, Mehmet Yilan told Reuters: "He stormed in and immediately headed for the people to the left, which is always more crowded… I wonder if he came here before because he seemed to know where to go".
1:20am: According to eyewitnesses, the gunman fired bullets into the sea at people trying to escape.
1:22am: The attack stops and the gunman allegedly changes his clothes in the kitchen and fled. He is thought to have blended into the crowd.
1:30am: Reports reach Majestueux via phone calls and texts. The music carries on playing and no announcements are made.
1:35am: Some people start to leave the club, walking in large groups for safety.
1:44am: The roads were blocked, which meant no taxis could reach the area.
1:50am: Crowds form outside the roadblock, trying to get cabs.
2:10am: Cabs arrive, operating at ten times the normal fare.
We couldn't believe it. The most exclusive club in Ortakoy, literally the most popular club in Turkey, got attacked while we were in the next club.
We were in the toilet when one of my cousins called me telling me she had seen it on the TV. Then the texts started coming in.
We got back to our table and one of my friend's mothers had called them too, so they already knew.
Weirdly, the music didn't even stop – it was like nothing had happened. Nothing was announced so many people just carried on having fun.
It took us so long to actually figure out what we should do.
Everyone who learnt what had happened started calling us to tell us what to do. We quickly left the club to try to get home.
Some people were leaving at the same time as us, but at least the half of the club was still full. Either they weren't scared or they didn't know what happened.
The streets were filled with people trying to go back to their homes. The Police arrived at Reina as fast as they could but somehow the attacker escaped.
Big crowds were moving through the streets together. We could hear the ambulances and police sirens. We all just wanted to get home safe and sound.
As expected, we couldn't get a cab. I tried to book an Uber, however after 30 minutes I had to cancel it because all of the roads were closed as a result of the attack, meaning the Uber couldn't get to us.
Normally the cab ride would cost us between 20 and 30₺ (Turkish Lira) but the driver told us he would only take us if we pay 200₺. None of us at that time could think about money, so we just said yes. I thought, 'what about the people who can't afford the higher price, how are they suposed to get home?'
When we got home I was scared and upset, but nothing made me as sad as my dad's messages to me that night. My parents are used to living far away from me, but the fear in his texts were what affected me the most: "Sleep my beautiful daughter. I only stayed awake so I could understand what had happened. I hope God will you give comfort and help."
I replied: "You should sleep soon too dad."
He then said: "When you go back to the UK safe and sound, I will. It has always been like that.
"When you are there it's different, when you are in Turkey it's different."
The attacker still hasn't been found, but Turkish authorities are saying that he is either from Uzbekistan or Kyrgyzstan, however different initial reports say he was from the Xinjiang region of China.
This was unfortunately 26th attack in Turkey in last 12 months.
How can I stop being scared? How can I not worry about the people I left back in Turkey? How can they live like everything is alright? How can I possibly know that my parents, friends and other family members will all be safe tomorrow?