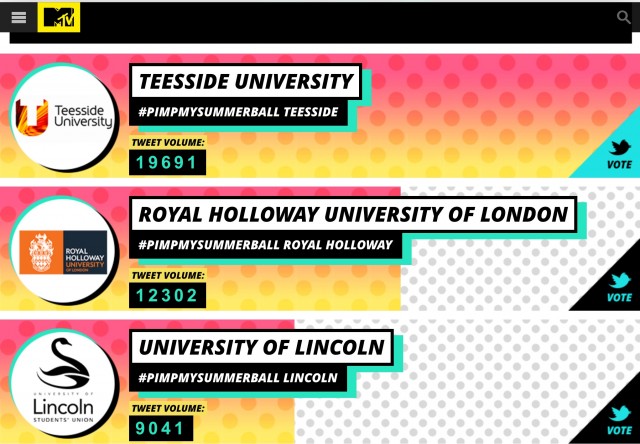 It's time to get tweeting #PimpMySummerBallRHUL
We could win 50k, and we're currently in the lead
It undeniable that this year the SU and Medicine have really stepped up their game: between Toast and the Soap events at the SU, the standard night out has really improved. Now they have something new for you all to get involved in: #PimpMySummerBallRHUL.
#PimpMySummerBallRHUL is a competition held by MTV for a chance for universities to win £50,000 to be put towards their summer ball budget – just think how many VKs could be bought with that! The competition itself is very simple: every time you tweet or retweet a tweet that contains #PimpMySummerBallRHUL one point is given to Royal Holloway. The university with the most points at the end of the competition will win the money.
RHUL is currently in FIRST PLACE after Teesside University got temporarily suspended from the competition for cheating by using BOTs. There have been twitter accounts opened that are specifically just to manually tweet and retweet #PimpMySummerBallRHUL (RHUL don't need to cheat and use BOTs to win). The SU staff, Nick Allen, everybody and their mum have been tweeting and retweeting so what is to stop you from giving it a go?

So get on twitter (or, if you're like me, make a twitter account today). Badger celebrities, badger old alumni, badger everyone for those retweets as we can only win if we work together. Example, KT Tunstall, and Vernon Kay have already retweeted it, so keep on trying celebrities, and be creative. Whatever you tweet don't forget to use the hashtag so we can have an extra point.
If you're tweeting about your dog, your lecturer, your runny nose – use the hashtag. Your friends and followers may start to hate you, but none of that will matter when you're at your MTV pimped Summer Ball.
This competition goes on until Wednesday 23rd, so in the words of the Medicine twitter account – remember that it is a 'marathon not a sprint' and use #PimpMySummerBallRHUL in every tweet you post. Good luck guys, and lets make this year's summer ball the best it has ever been #PimpMySummerBallRHUL
To see the current leader board visit http://www.mtv.co.uk/pimp-my-summer-ball/vote