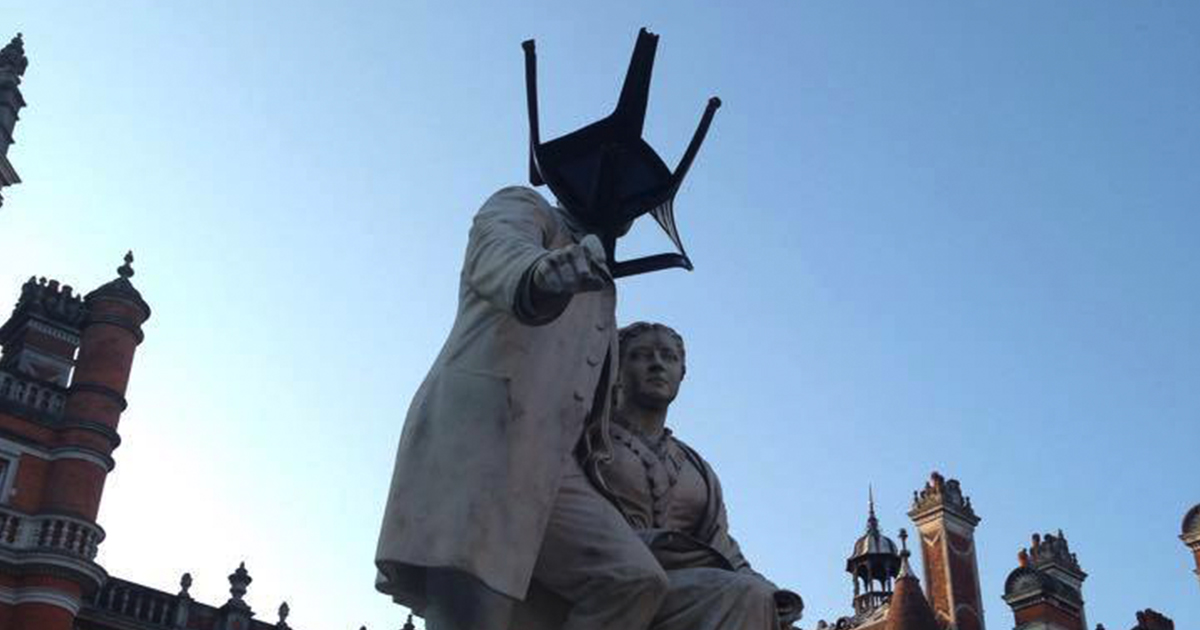 'This year's freshers are the rowdiest bunch I can remember': The Tab chats to Thomas Holloway
He still loves Jane more than Blue VK's and Runnymede Chicken
Thomas Holloway is taking Facebook by storm. His punny comments brighten everyone's days. We caught up with him to see how he finds live in the South Quad.
When did you get Facebook?
I've had it for a few years actually, I overheard some freshers talking about Facebook in South Quad and I thought I'd check it out. I kept it on the down-low for the most part but this year I decided to announce myself so to speak.
How did your profile become so big?
I just started commenting on posts from pages relating to Royal Holloway (such as the excellent articles from the Tab). Soon enough people started sending me friend requests and it all spiralled from there.
How does it make you feel when people put things on your statue?
I don't mind it to be honest, it's all a bit of fun and Jane and I get a good laugh out of it. Though I've heard security aren't big fans of it.
How many SU nights have you missed this term?
Miss an SU night? I don't know the meaning of the phrase. Actually, now that I think about it there was one time during Freshers' where Jane got a little worse for wear at predrinks (too much vodka) and I had to stay in and look after her. Other than that I can't think of a night I've missed this year.
Has the response been positive mostly? No negativity towards you?
No, there's been absolutely no negativity whatsoever which I'm slightly surprised at.
What's your favourite society?
I couldn't possibly pick just one. But if someone started a "Thomas Holloway Appreciation Society" then that would definitely be my favourite.
Let's play Holloyay or Hollonay. The new library – Holloyay or Hollonay?
Holloyay.
VK claws – Holloyay or Hollonay?
Definitely Holloyay.
Are the rumours about the polar bear painting, Man Proposes, God Disposes true? – Holloyay or Hollonay?
I'm afraid rumours are just rumours – hollonay.
Do you think this years freshers are tamer than other years?
This year's freshers are certainly one of the rowdiest bunch I can remember for a long time and it's always a pleasure to get down with them at the SU. Thankfully they seem to keep on the right side of the law for the most part.
Is everything OK with Jane now? 
It was just a few things that I needed to sort out with her. Things had got a little tense between us but everything seems to be fine now.
Thank God we don't have to tear them apart.