Liquid nightmare: Club uses photo of legless semi-naked girl to promote night
According to Liquid Nightclub in Windsor, if your night out does not end with you semi-naked and unconscious, you're doing it wrong
One of the most popular nightclub chains has been slammed for using a half-naked woman passed out to advertise a club night.
Liquid nightclub tweeted the obscene picture to promote free booth giveaways to girls this Friday.
The woman is snapped lying face down on the ground, surrounded by empty alcohol bottles and clothed only by a white thong.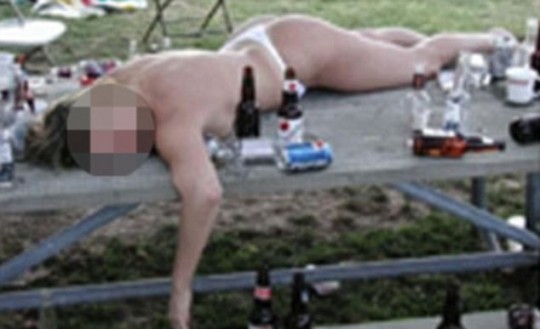 On Tuesday, they captioned the photo with the question: "Want to end up like her? We're giving away a free booth to groups of girls this Friday! DM us #mortal"
The tweet has since been deleted.
The club have since met criticism from students in the area. Third year student Vishnu Patel said: "Liquid never fails to amaze me. First they try and promote 'Suck my Decks', now it's '#mortal naked females. The club is going down hill."
Hannah Partridge, an English and Drama student, said that "Liquid Windsor is pretty infamously grimey but this tops it all." Isabel Gonzalez-Prendergast said: "By posting this photo as something to aspire to, Liquid in Windsor has publicly displayed how horrific Britain's drinking culture can be."
Local Councillor David Hilton, chairman of Windsor Council's crime and disorder overview and scrutiny panel, was left to quickly mop up Liquid's mess.
He told the Daily Mail: "This photograph is totally alien to what the council may argue is responsible advertising or promoting responsible drinking."
Cllr David Hilton made it extremely clear that disgusting photographs such as Liquid's post are completely the opposite to what the council believe is "responsible advertising or promoting responsible drinking."
He said: "Getting legless, as this young lady appears to be, is exactly what we want to prevent because it leads to the worst kinds of crime and disorder, and young ladies getting in this state puts them at enormous personal risk."
A spokeswoman for the club has apologised on behalf of Liquid for "any offence caused."
She said: "Liquid Windsor is a responsible operator and does not condone or promote irresponsible drinking."
The nightclub is now under disciplinary investigation following the poorly executed promotion.