Everything that went down at The National Student Demo
Bohemian dances, raving commies, blatant anti-Semites and insufferably middle-class students
As organised by the University and College Union in collaboration with the National Union of Students, the 19th of November marked the day of the National Demonstration. The demonstration was announced following the second reading of the Higher Education and Research Bill in parliament on July 19th.
The new bill proposed by parliament has caused a tsunami of distress, calling for the closure of HE colleges, the right to raise tuition fees above 9000 pounds per year and the incentive to prop up more for-profit FE providers.
University students flocked to Westminster in their thousands ready to cause a riot, letting Her Majesty's Government know "enough is enough".
Sebastian Robyns of Cardiff university's Socialist Student Society pic.twitter.com/WMEuw9JgJB

— jep (@jephert) November 20, 2016
The vast majority of the protest was completely peaceful, with the cacophony of chants beckoning through the statuesque streets of Westminster unaccompanied by violence or police brutality.
The demonstration was always planned to allow for ulterior causes and campaigns, leading to a diverse range of banners such as this:
I managed to quickly speak to Amelia from Belgium, the girl pictured to the left of the photo above, about Brexit and the repercussions for European migrants.
I asked Amelia from Belgium about Brexit. pic.twitter.com/oKPepP0i0o

— jep (@jephert) November 20, 2016
Next I spoke to Peter, a lecturer at the University of Cambridge. Peter predominantly came to protest about stagnant staff salaries, in a time where tuition fees could raise significantly. Erudite and eloquent, Peter conversed with me quickly to express his concerns. He said: "It seems to so wrong that very few lecturers are actually able to make it to these events for monetary and professional reasons – we managed to bring five of us but the rest had to work and were thus unable to attend today."
When I asked him whether he felt that students can't speak for their lecturers in this demonstration, Peter responded: "I believe they can, but at the same time It should also be the concern of university staff to support students on lowering fees as well, yet looking around, I think we're the only ones over 30 here."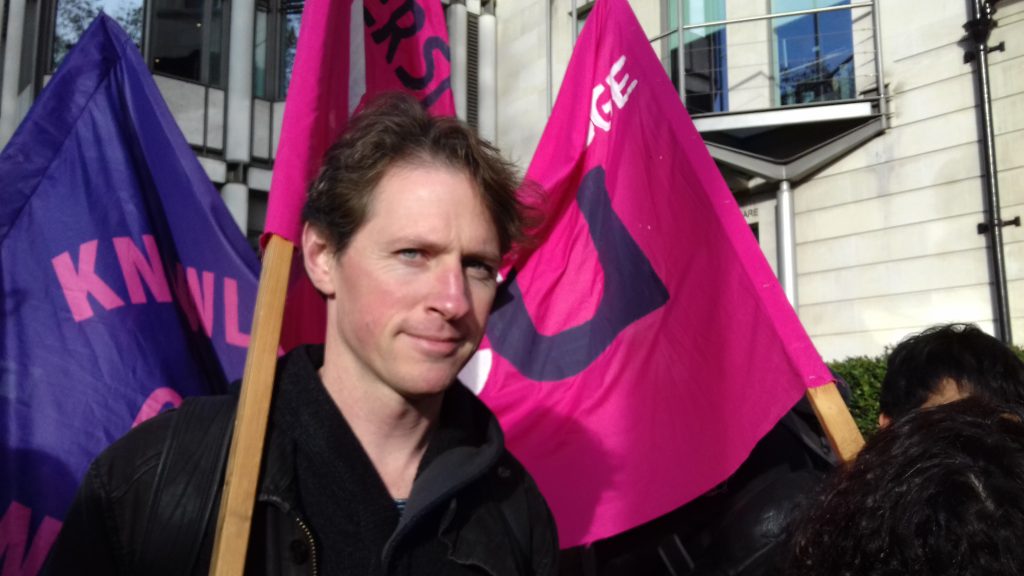 I then questioned Peter about his banner, advertising the gender pay gap. I asked him: "Do you think the elitist and archaic nature of Cambridge University has been conducive to the pay gap?" He told me it was "definitely an aggravating factor".
While the vast majority of protesters were kind, polite and courteous, it was inevitable that the left-wing nature of the event would attract those on the hard-left. The signs of atrocious anti-Semitism within the protest showed themselves relatively quickly, with a plethora of denigrating propaganda aimed at tarnishing the reputation of Israel.
I managed to quickly get a word from the man responsible for plastering the fence with the signs. Wearing a "Boycott Israeli goods" badge, he was keen to give his opinion. I asked him what he though of Israel and Jewish people, to which he replied: "They're all scum".
Shortly after, my block was unexpectedly asked by people from Essex SU to chant "from the river to the sea Palestine will be free" – a chant which calls for the destruction of Israel. We refused their request and distanced ourselves from them as we descended onto Whitehall.
QMUL block. pic.twitter.com/cUAJz1fTkV

— jep (@jephert) November 20, 2016
The National Student Survey (NSS), as branded above on the "boycott the NSS" placard, is a survey filled out by graduates to gather input on their salary and university experience as a whole. The survey has created recent controversy as it is used as means to grant universities gold, silver or bronze status, which subsequently allows the higher rated universities to charge higher fees.
After reaching the rally point at Millbank, Westminster, the demonstration was treated to music, dance and a generous helping of curry and rice on behalf of the volunteers from SOAS university.
Everybody loves a good ol' hippie dance. pic.twitter.com/6g5gAgvQFA

— jep (@jephert) November 20, 2016
Finally, the speakers appeared before the energised crowd. It was a fairly interesting lineup as each speaker choose a different focus to take on the whole protest. The lineup included Owen Jones; President NUS, Malia Bouattia; Sally Hunt, General Secretary at UCU; Shakira Martin, Vice-President for Further Education, NUS; Sorana Vieru, Vice-President for Higher Education, NUS; Rob Goodfellow, President, UCU and George the Poet.
President of the NUS, Malia Bouattia, speaks at the National Demo. pic.twitter.com/IEk2oB6ufm

— jep (@jephert) November 20, 2016
@OwenJones84 turns up to speak at the National Student Demo pic.twitter.com/I8U16ulUBx

— jep (@jephert) November 20, 2016