HUGE TRUPSET IN OUSU ELECTIONS: LJ Trup wins!
TRUP TROUNCES RIVALS IN ELECTION
Want to write stories, features, take photos or make videos for the Tab? We'd love to get you involved, email [email protected]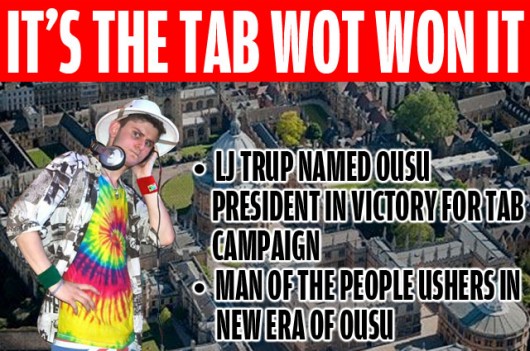 IT'S OFFICIAL! The Tab has launched the people's candidate Louis 'LJTrup4OUSU4Change' Trup to an historic OUSU presidential election win.
VOTING RESULTS (first preference votes):
LJ Trup 1685 votes
Alex Bartram 725
Jane4Chang 975
Nathan Aykehurst: 587
Voter turnout was 20.8% of the student population.
The moment Trup and masses found out in Brasenose Bar:
http://www.youtube.com/watch?v=7m8_Lx9zJfU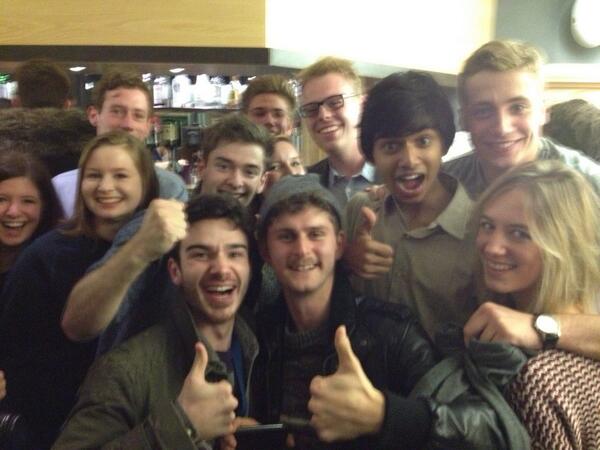 The Tab were the only Oxford paper to endorse Trup, as we believed that all the other candidates were not  students but were in fact manifestations of different shades of the colour beige.
Nathan Aykehurst? You lost us at 'Reclaim OUSU'.
Jane4Chang? You sound like Dave Cameron
Alex Bartram? You are so dull that we consistently forgot what you looked like while we were watching you speak.
Here was Buzzfeed's Political Editor attributing the win:
Trup's manifesto, which was drawn in crayon, included proposals for a monorail to provide LMH and St Hugh's students better access to university buildings, an elimination of 5th week from term and a pro-world peace policy.
Trup will become the first interesting OUSU president since records began, performing a song for his allotted time during hustings (video below).