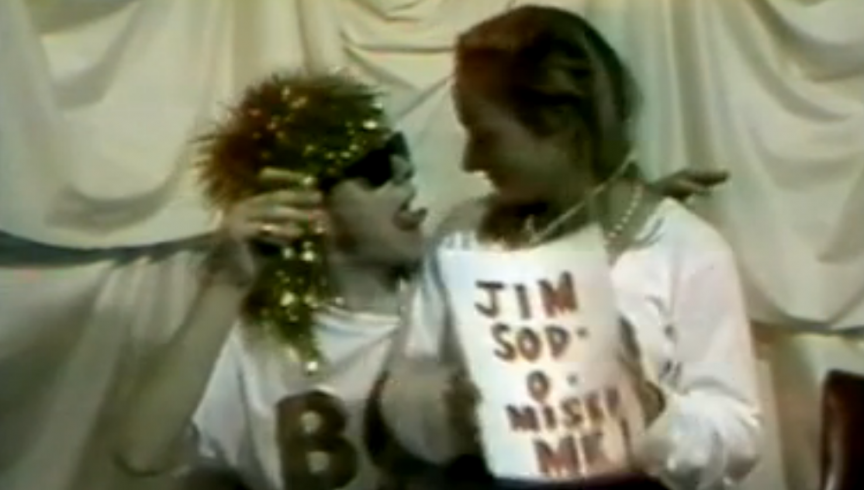 BBC man in Savile 'sodomy' spoof
Student who went on to work for BBC dresses as Savile and jokes about 'sodomising' a girl
A writer and director who worked for the BBC dressed as disgraced Jimmy Savile in a spoof show entitled "Jim'll Sodomise You".
The shocking footage uncovered by The Tab was made in 1992 by York Student TV, and stars, David Bartlett a director who went on to work for the BBC.
The video sees Bartlett jokingly tell a girl she has "luckily, very luckily, been well and truly sodomised by Jimmy Savile" whilst wearing tracksuit trousers, a gold wig and holding a fake cigar.
Bartlett went on to work for the BBC as a researcher helping to make Casualty, The Assassination of JFK, The Great Train Robbery and Nixon's Last Day.
The bizarre video also references Savile's professed dislike of children:
"Never let it be said that Jimmy Saville-Row [the nickname used in the tape] runs a program for children, though he hates children, just for the sexual angle. There's nothing in it at all".
The Corporation has come under pressure over its handling of the Jimmy Savile scandal in recent weeks after accusations came to light of BBC employees helping the disgraced TV host to cover up his sick activities.
In recent days widespread reports have suggested the BBC could face a public inquiry over its dealing with the depraved DJ.
It is alleged that knowledge of Savile's crimes was covered up on an industrial scale with claims that it was common knowledge both within the BBC and within broadcasting at large.
Bartlett's female co-star plays a character named "Esther Lolita-Porter"; a chilling reference to Nabokov's classic novel about a man who seduces his 12 year old stepdaughter.
He asks her, "Since you're a nice little girl could we go somewhere after the show?" before adding, "they don't call me paedophile Savile for nothing."
He goes on to award her a "Jim Sodomised Me" badge.
Other jokes from the video include:
• "I'm going to get a massive great stonker with all this bloody sex going on"
• "Do you want a suck? Well wait a minute, I'll get my cigar out my hand then"
• "Sod off, you've been well and truly sodomised, stew in your own juices matey"
• "As you know I like doing work for charity, but not when I'm going down the pub"
When contacted for comment by The Tab Bartlett said that the video came from a "feeling that Jimmy Savile was inappropriate in his on-screen behaviour, and was not based on anything more than that driving conjecture."
"I went to the BBC many years later as a researcher and didn't work with Savile… [or] in any management position."
He also added, "I really never thought about that sketch again until the recent furore, which of course brings up many much more serious issues."
Find the video itself on the York Student Television site here while you still can.