A definitive ranking of every Notts bar you'll visit after lockdown
Did someone say 2-4-1 cocktails?
With the possibility that bars will open outdoors on 12th April and indoors on 17th May, it's time to get planning your biggest bar crawl yet. After months in lockdown, it's important you don't waste your precious time in a below average establishment.
We've sampled the bars of Nottingham to provide you with definitive rankings (bare in mind, these are personal views only):
Pepper Rocks 10/10
This the perfect place for your first post-lockdown Tinder date. As a bar consistently full of students drinking with their Hinge, Bumble and Tinder matches, you won't be the only ones making awkward small talk. The toilet doors in the ladies remain an enigma to me and are a definite hazard for finger trapping. However, the cocktails here are second to none – rest assured there's no added water. The menu is extensive, and my personal favourite has to be their White Russian.
Coco Tang 8/10
Hidden away behind an old Hong-Kong style alley, you'll find the loud music of this cocktail bar. It's more of a club-style bar than the others featuring on this list and there's always one fool in here on the top floor trying to smoke in the indoor area by the Vietnamese roof garden. Though it has a small menu, containing far too much sugar, there's something for everyone. It's famed for its Regina George cocktail and, let's be honest, did you really go to Coco Tang if you didn't upload a boomerang to Instagram of it?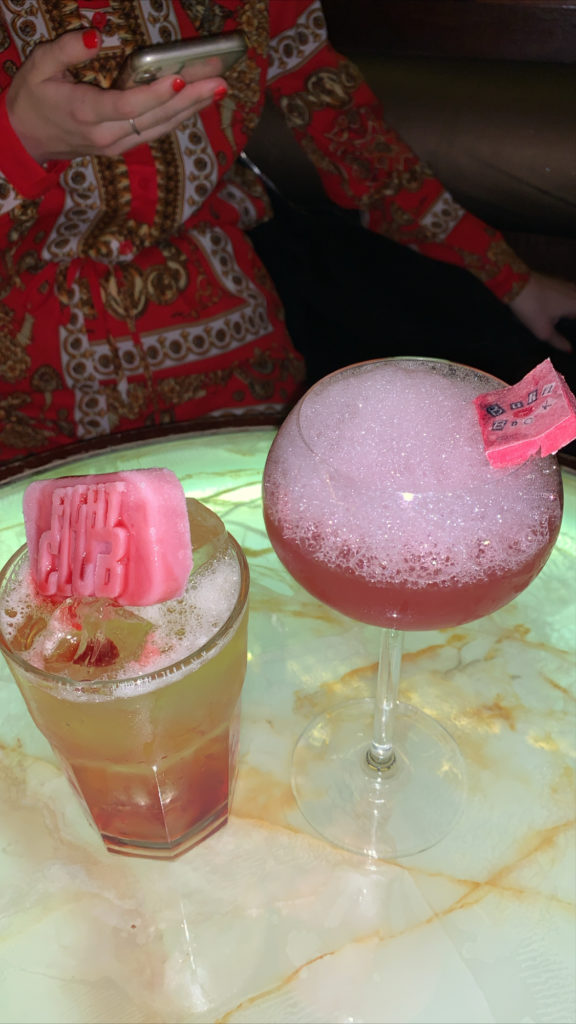 Penny Lane 4/10
A refreshing cocktail menu with some new takes on the classics. However, it's not just the drinks you'll visit Penny Lane for. The array of amusement arcades is a unique feature, from air hockey to table football to basketball. The only downside is that when it reopened after the first lockdown, customers were unable to play in the arcade area with drinks due to Covid-19 restrictions, which defeats the entire point of the bar and has tanked it in these rankings.
Hockley Arts Club 9/10
With three different floors and three different menus, it's hard to get bored of the Hockley Arts Club. The famous top floor, dubbed the Electric Garden, is where you'll find Nottingham's Instagram influencers. However, the Blue Rooms are equally luxurious with large leather sofas and neon lights. It's consistently busy and you often have to book to get a seat in the Electric Garden.
The Alchemist 8/10
I think we can all agree that the cocktails here are unbeatable. From colour changes in test tubes to smoke and bubbles over a bunsen burner, they've got it all going on. However, there isn't much seating and so it's often too busy for a Friday or Saturday night. And with a simple Pornstar Martini costing a whopping £11, it's a place to be reserved for special occasions – but if the end of lockdown doesn't constitute that, what does?!
Pitcher and Piano 10/10
It's not as cosy as the others bars mentioned, however, who cares when you're wining and dining in a church. Forget the drinks, this outstanding venue is a sight to behold and beats every other Pitcher and Piano in the country. With an entire menu of 'gin twists,' this is the place for gin lovers to continue the FeverTree vs Schweppes debate… but we all know who the winner is right?
Alto 7/10
This bar is positioned on the top floor of Corner House. The rooftop area is perfect for day drinking once the lockdown lifts and is one of the few Nottingham bars with a sizeable outdoor area for 12th April and for that it gets major points.
Bunk 6/10
There's three Bunk bars across Nottingham, famed for their chicken wings. Perhaps I've knocked off a few points for personal reasons due to the fact that on one occasion there was a half-eaten chicken wing lying on the table I was shown to when I arrived. However, I'm willing to put that aside to inform you on the drinks. It's cheap and cheerful, especially with happy hour, but there's arguably a lot more juice and a lot less alcohol than there should be! Out of the three locations in Notts, the one on Stoney Street is by far the best with neon lighting and table football, making it feel more like a bar than a restaurant.
Boilermaker 7/10
This one might be a little hard to find as it's one of Nottingham's famous bars. Hidden behind a boiler showroom, you'll find a quirky bustling bar. With 50p from each drink being donated to Nottingham Children's Hospital, this is definitely an establishment we can get behind. There's even a Peaky Blinders cocktail!
Lost Property 7/10
A second hidden bar on the same street as Boilermaker. Tucked away behind a lobby of suitcases is this hidden gem. Even their website is a mystery. They used to hold 20% off Student Tuesdays, but they're yet to say whether this will continue after lockdown. There can often be a queue in the lobby on weekends.
Tier 8/10
One word: underrated. It's a rather small location, with an even smaller outdoor area at the front. However, the ceiling of  shrubbery intertwined with countless fairy-lights gives it the perfect atmosphere for an evening of drinking with friends or even a date. With cocktails only costing £5 between 4pm and 8pm everyday, I know where I'll be.
Cosy Club 5/10
If you're studying in Nottingham and you're intending for your first out of lockdown trip to be to Cosy Club, which you hometown definitely also has, I suggest you reconsider. Though it's has a beautiful interior, which could've featured in Bridgerton, with amazing cocktails, take a trip for bottomless brunch instead.
Slug and Lettuce 5/10
Once again, if you're considering this chain, which is in literally every other city in England, for your first trip out – you're doing life wrong. Fairly new to the Nottingham city centre, this Slug and Lettuce is in prime position in Market Square. Who can say no to their 2-4-1 cocktails. However, the menu isn't particularly inventive, but does have all the classics your student house can name.
Lost Caves 7/10
This bar cost £50,000 and we can definitely see why. Beneath the streets of Hockley in these underground caves is a beautiful cocktail bar, specialising in gin, lit by candles and atmospheric coloured lights. With chillout music playing in the background, it's the perfect location for a relaxing evening after lectures.