Best Notts restaurants you NEED to try in May when they re-open
Be ready to eat out every day of the week
At first, lockdown brought new aspirations. We were baking banana bread, working out, and trying new things we'd never tried before. Being forced into the kitchen didn't seem like a such a bad thing. It was as though the nation collectively agreed that being a professional chef couldn't possibly be as hard as it looks.
Well, after almost 12 months of failed attempts at baked-feta pasta and home-made mochi, I've come to the conclusion that it's pretty hard. Controversial opinion: just because a food goes viral on TikTok doesn't mean you should attempt to cook it.
Covid-19 has taught me, more than anything else, that we rely more heavily on restaurants for our mental health than I ever would've thought. Good food is therapy, and I think we're all in desperate need of some.
Here is a list of the best and most-affordable restaurants in Nottingham that you definitely should go to after lockdown ends. Get your food therapy: it's been a tough year, you deserve it.
If you could eat breakfast for every meal…
… make sure to visit The Pudding Pantry. This cozy café is perfect for those with a sweet-tooth or a borderline obsession with getting brunch.
Must order: Whilst they serve everything breakfast themed from a Full-English to a dozen variations of your classic, fluffy pancake, their famed specialty is The Pantry's Eggs Benedict. This deceptively average dish has had a delicious Pudding Pantry makeover as it comes served on a soft, American pancake instead of your boring old English muffin.
If you like delicious food at a minute price…
… Bunk is the restaurant for you. Decked out in neon lights, hanging plants, and plush leather sofas for you to relax into, Bunk is perfect for a cheeky cocktail after a long day of slaving over Zoom.
Must order: Not only is Bunk's American style food delicious but their prices are more than affordable. If you're craving baskets of spicy wings and freshly fried chips for only £4.50 then Bunk will be your new favourite spot. Plus, if you can make it for Happy Hour, their fruity cocktails are a steal at 2 for £8.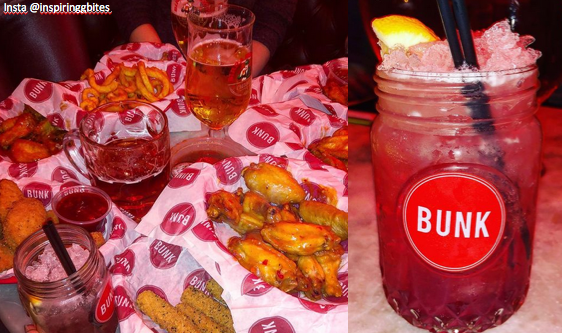 If you love authentic Spanish tapas…
… you should book a table at Revolution de Cuba! Restaurant by day and packed bar by night, Rev de Cuba hosts a delicious cuisine and dozens of unique Latin cocktails.
Must order: At an average of £5.50 per small plate, their Spanish tapas is both cheap and unbeatable in taste. I'd personally recommend ordering half a dozen tapas plates with a board of Shots to share, one of which includes four strawberry-margarita shots for £10, to start the best night-out off the right way.
If you love to be vegan but miss the taste of meat…
… Prickley Pear is the perfect spot. Their entirely vegan menu is unbelievably meaty, filled with juicy burgers, doner-style kebabs and spicy tacos.
Must order: They boast arguably the cheesiest, creamiest vegan Mac-n-cheese you can find. As the restaurant is small, Prickley Pear is ideal for either a quick lunch spot or a cosy evening date.
If you want to be transported somewhere exotic…
… then Zaap Thai Street Food is your ideal escape. This authentic Thai street food spot is perfect for those with a need to escape from the mundanity of everyday life, as you'll feel as though you've been whisked away to the bustling back-streets of Bangkok.
Must order: Few restaurants outside of Thailand can achieve the authentic sweet, sticky taste of a Pad Thai Bo Ran like Zaap. I'd also recommend their Gang Kiew Wan, a traditional green curry, if your palette can stomach the heat.
If you're looking for a classy, romantic date destination…
… you need to visit Mowgli. Not only is their authentic Indian street-food style menu incredible, you'll be blown away by its gorgeous interior. Decorated with hundreds of glittering fairy-lights and hanging-swing-style seating, Mowgli's interior is nothing short of a million-bucks.
Must order: Mowgli's Monkey Wrap (not actually made of monkey) is a succulent chicken wrap flavoured with authentic Indian spices, topped with fresh coriander, sweet pomegranate seeds, and homemade chutney.
To check out some more photos of these great restaurants then go to the following notts-based food blogs:
@katy.eats @plantbasedpans @inspiringgbites @theherbtable @loznfod @holygrub @veganboi95 @liv.loves.plants