Over 450 students join NTU rent strike action
They are demanding a 40 per cent rent reduction
NTU Rent Strike are leading a campaign to fight for students who are having to pay £150+ per week for accommodation that they cannot return to, due to the national lockdown.
The campaign was launched on Wednesday and since then over 450 students have signed the open form, pledging to withhold rent unless the university agrees to the following terms:
No-penalty contract releases with full deposit for anybody who wishes to move out of halls before the end of their contract.
40% rent reduction for the entire year for those who decide to stay.
No repercussions for those involved with the rent strike.
Students have been specifically instructed to stay at home and not to travel to university by the government this month, yet students are still expected to pay for accommodation. Often, rent is more than £150 per week for these students.
Back in March last year, at the start of the first national lockdown, Trent completely waived Term 3 fees for students in university accommodation. As we find ourselves in a very similar situation today, there is no reason why this year should be any different.
Why should we be punished financially for staying safe and following the rules?
Many students at Trent have voiced their concerns about having to pay for their unused accommodation over the lockdown period, which are often subpar and overpriced rooms to begin with.
One particular student, who wishes to remain anonymous, described his university accommodation as being an "over-priced storage locker".
As a result of the national lockdown that was announced on Monday, a disabled student has been forced to stay alone in a 10-person flat in Meridian Court. Alone over the course of the 6-week lockdown period. This is just one example of the many isolated and vulnerable students that have been affected by the current situation.
This campaign has gained significant traction since its launch on Wednesday. Nottingham East MP, Nadia Whittome has pledged her full support and solidarity to the cause, and have been featured on BBC News, in the Nottingham Post and on Notts TV, thus far.
There is an upcoming meeting with Nottingham Trent Student's Union, following an encouraging response to an open letter sent on Thursday which requested for their official support of the strike.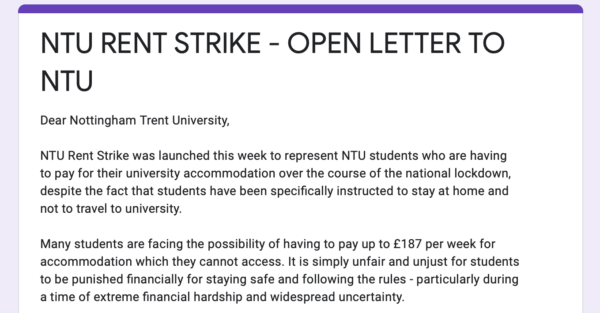 Lewis Tibbs, Co-Founder of the NTU Rent Strike said: "It is simply unfair and unjust for students to be forced to pay for accommodation that we have been explicitly told not access – particularly during a time of extreme financial hardship.
"Students are regularly attacked and scapegoated in the media. But our concerns are completely legitimate and valid; we are not being unreasonable considering the current circumstances and we need to make our voices heard.
"Many other universities are putting appropriate measures in place to support their students. NTU must follow suit – we will not hesitate to act if they refuse to listen."
They campaigners are set to meet with NTSU representatives in the next couple of days, in order to discuss how they can offer support moving forward.
Rebecca Hyde, Co-Founder of the NTU Rent Strike explained that: "NTSU are supposed to represent NTU students, so they need to step up and help get the university to listen to us.
"University of Nottingham's Students' Union backed their students' rent strike campaign and they have been successful in securing a fair rent reduction – there is no reason for NTSU not to do the same. Being at university at the moment is very stressful, we are under a huge amount of financial and mental pressure. NTU needs to do the right thing."
Many other universities have listened to their students and have put measures in place to support them, including University College London, University of Sheffield and Loughborough University – who are all providing compensation in some form to their students. There is no excuse for NTU not to do the same.
Change is possible, we just need to stand together.
Support the campaign by signing the open letter to Nottingham Trent University here.