UoN students have created a new group to protest their treatment during the pandemic
Over 200 members have joined in the last two days
A group of Nottingham students have come together to form a new Facebook group, known as 'Nottingham Students' Assembly', to protest their treatment by the university since the start of the pandemic.
The group seeks to unite students in protest, following a sharp uptick in dissatisfaction at the University's response. Understandably, many students are currently feeling very stressed and anxious: adamant that they deserve more support during this very challenging time.
The principal aim is to reinstate the safety net that was available for the 2019-20 academic year, and the grace period for all coursework.
There are currently a lot of resources available throughout the group, including templates to write to MPs, forms for demands, and letters for the heads of the university.
Several students have taken to the Facebook group, 'The Nottsfessional', to show how they have felt forgotten, and left behind by the university. They say that while the university provided a safety net to the previous year, for just one semester, they are barely offering any help to those struggling this year. Many feel that the university is not providing adequate support with mental health, or educational resources, and that students are left to their own devices with minimal contact.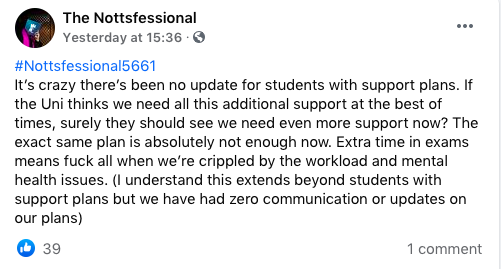 Nottingham Students' Assembly  aims to create a solid set of demands and create change through the lobbying of the Chancellor, Vice Chancellor, and Board of Investors. This follows the ongoing rent strike, which has so far held up £1.2 million in rent money, and is set to keep going.
You can find the Facebook group here, to get involved.