Overalls, trackies and matching sets: we're back with Lenton's Looks, lockdown edition
Meanwhile you've been in your PJs all month x
We're back again with this months edition of Lenton's Looks and this time we're talking all 'fits lockdown. This month has been a weird one in lockdown 2.0, but we're definitely on the home stretch now and will be sipping mulled wine in fluffy hats before we know it. Before we get into true festive style though, lets delve into some of the best lounging looks of November.
Morgan, Third Year, English
Kicking things off with Morgan's grungy look, we're loving her sandy overalls from Denim Artist which she's layered with an oversize black Nike T. She pairs her chilled look with some chunky Dr Martens and her trusty beats solos which she "couldn't survive lockdown without" – we feel you Morgan.
Aushan, Third Year, Politics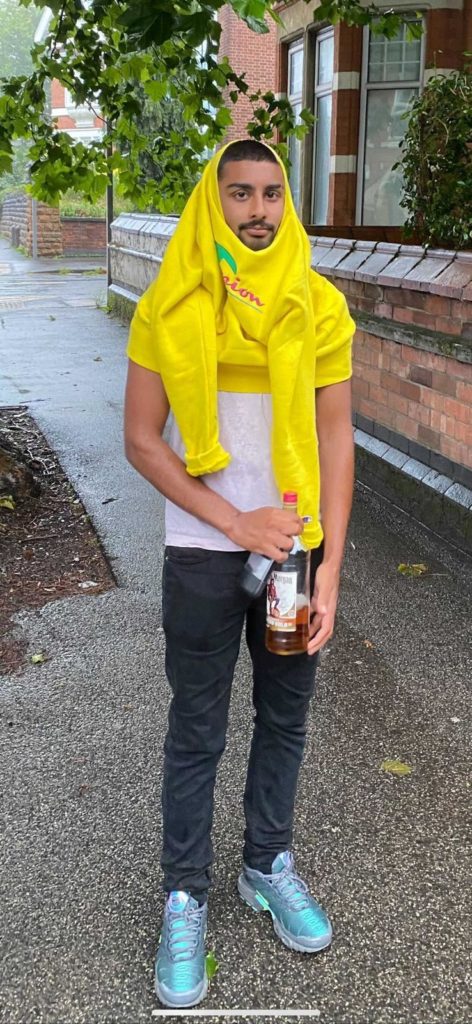 Aushan's lively look is perfect for brightening up those dull lockdown days. He keeps the base simple with some black jeans from Topman and a plain white t-shirt from H&M. He then spices things up with some pops of colour. His jumper brings the sunshine to this very rainy November, whether he decides to actually put it on or not! He's paired the 'fit with some blue nike trainers, essential for his daily walks down the streets of Lenton.
María, Second Year, Product design and manufacturing
Taking their daily walk in style, Maria and her friend Carla rock the coolest custom jeans from Maria's own brand which you can find at @dis.cont.inued on insta. They pair their sick jeans which basic vests from Urban (left) and Zara (right), allowing their jeans the limelight, as well as black converse (left) and white nike's (right).
We should all take some serious inspo from Maria and Carla, and not just because they seriously know how to dress. Getting up, dressed, and feeling good about ourselves for just a walk through the park or to go to the shops is something that can really help all of our mindsets during these strange times.
Imogen, Third Year, Psychology
We all know our Lenton's Looks lockdown edition would not be complete without a matching tracksuit. Imogen chills in bed, comfy-cosy-cool in her blue Zara co-ord, where she's been spending 90% of her time recently.
For me, a matching trackie is a true lockdown essential and from my experiences over the past few months of scouring the web for them, I can recommend Pretty Little Thing, ASOS and Urban Outfitters as the best sites. For the boys I'd suggest ASOS or Boohoo Man.
Zoe, Third Year, Psychology
Next up is our token active look from Zoe. She's spending her days smashing out 2 week ab challenges in between lecture engagements. Being the health queen she is, she does it in true LA girl style with a matching set from Gym Shark. These sets are so in at the moment, whether you actually exercise in them or not. Gym Shark is a great place to look for sets like this one, as well as Tala and even Amazon for some super affordable ones. Chloe Ting would be proud.
Morenike, Second Year, Medical physiology and therapeutics
Morenike is giving us those beloved Y2K vibes in her tie dye Juicy Couture flares, leaving us wondering if the infamous tie dying trend from lockdown 1.0 has made a return for this round. Morenike picked these up from Urban pre tie dyed but they're definitely still giving us some inspo to get the bleach back out on our favourite trackies and flares. She keeps it chilled on top with a staple fitted white crop from Zara, all making for the perfect WFH/lounging look.
Hannah, Second Year, Classical civilisation
We're finishing off this months edition with Hannah's monochrome 'fit. Whatever Hannah's doing with her lockdown days, she's definitely doing it in style in these cow print jeans from Topshop. She's cleverly layered a white shirt from Zara with a staple Calvin Klein sweatshirt on top. Finishing off the look with some chunky Docs and a beanie from HM x Kangol, giving it that indie edge.
There you have it, some of lockdown 2.0's trendiest looks. Next month we're swapping our comfies for our favourite sequinned numbers ready for some tiered festive fun (1,2 or 3) and we want to see the very best that Notts has to offer. If you think you could be in with a chance of featuring in December's edition, send a pic through to the Nottingham Tab's Instagram, we'll see ya there!