Drinking candles to being set on fire; Here are the most ridiculous customers student bar workers have encountered
There's a lot of vomit involved
During my time working in hospitality, I've seen and heard many iconic things, from vomiting guests to delusional drunks. I decided to gather a collection of stories over the years from my colleagues.
The customer nearly broke their teeth
"I was beckoned over by a pretty tipsy couple sat at a bar table. Upon arriving they held out a pot of olive pips. As I took it from them, they informed me that they'd seen the pot left on the table when they sat down and had tried to eat them, thinking they were peanuts.
Thankfully in their drunk state they found it funny, the guy even laughing about how he'd nearly broken his teeth when biting into one. I, however, was mortified." – Z
I don't think that's on the menu…
"At my old place, I served a group of middle aged business guys. After I'd cleared their table I offered them the dessert menu. One guy replied 'only if you're on it,' to which my 17y/o self bluntly replied 'no, but the crème brûlée is good.' After they'd gone, I went back to the table and found they'd left a £50 tip and a phone number.
Think they all ended up having the crème brûlée too." – H
He tried to drink a candle
"At my last job we had a visibly very drunk guy come in on a busy night, he'd jumped the queue so we told him to wait and take a seat. Next minute we heard him shout 'THE COCKTAILS IN HERE ARE SH*T' at the top of his lungs, over the loud music. We looked over to see him with a candle holder in one hand, with wax quickly solidifying around his mouth and all down his top. We asked him to leave.
The best thing was, later on after work, we were heading to our usual bar for a post-shift drink. We asked the bouncer how his night was going, to which told us he'd refused entry to a funny looking guy with what seemed like candle wax around his mouth." – K
He downed an imaginary drink
"I used to work at Rock City. One time when Cirque du Soul was on, we had a guy come up to the bar and ask me to fill up his bottle of water. He handed over an imaginary one, but we went along with it and pretended to fill it up, then give it back to him. He then 'downed' it and walked off.
Loads of weird things happened there." – M
Clear up operation
"It was a busy Saturday night around Christmas time. There had been an accident at the bar and one of the bartenders called a barback to go and clear it up. The barback knelt down to clear up the spillage on the floor, using only his bare hands and tissue to mop up the pool of liquid – to which a bartender then pointed out that it was a guest's sick on the floor…" – G
I'll have to decline that invitation
"I was about 17/18 at the time. Served a guy and he invited me to have a threesome with him and his wife."
Down it fresher
"Best and worst thing I've ever seen was when a bunch of very drunk guys at the bar were taking the piss out of their friend, who had left his pint and stumbled to the toilet to be sick. The lad shouting the most, without looking, picked up the missing guy's pint and necked it – then IMMEDIATELY threw up.
Turns out the guy who had ran to the toilet had already vomited into his pint glass and his friend had just downed his sick…" – J
Desperate times call for desperate measures
"I used to work at Trent SU. Once there was a guy hugging one of the pillars for a long time, then he stepped back and just started pissing on it." – R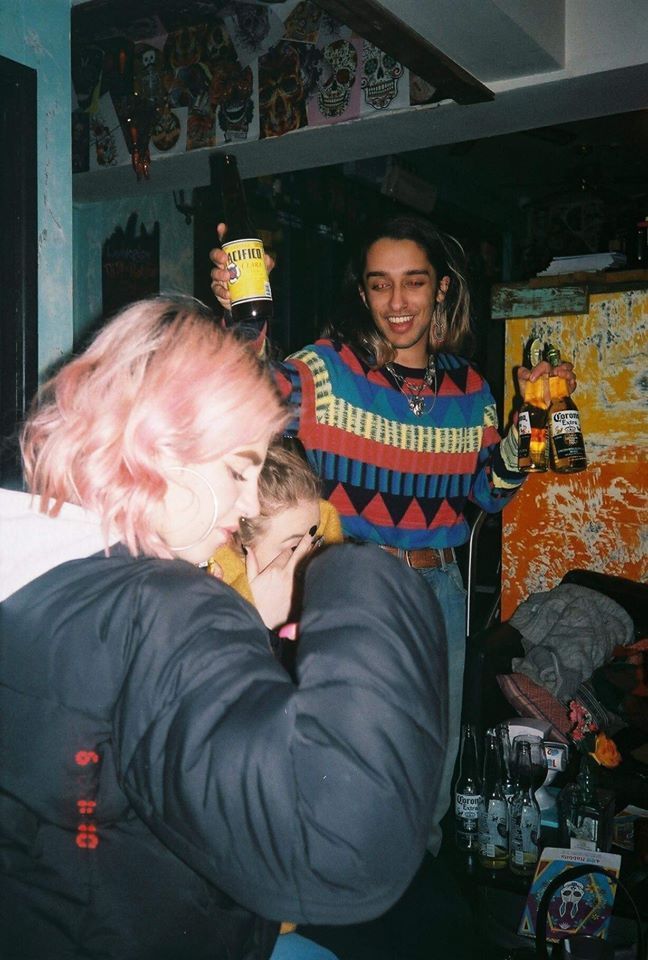 It was a lit night
"I mean this isn't a funny one. It's actually pretty horrific. But we once served a tray of 25 flaming sambucas to a guy. He was carrying them back to his table when someone bumped into him.
As you can probably tell, the tray tipped the fiery shots all over him and set his clothes on fire. It was pretty bad. We had to run to the rescue and throw loads of damp tea towels on him to put it out." – B
We're back and we're ready for it all over again
"I wasn't on shift at the time but was just out at a bar with my mates. We were all pretty hammered and one of the girls in my group was tricked into downing a shot of Tobasco. She was violently sick, it came out her nose a bit and burned. On her way to the toilet, she actually pissed herself.. a lot.. then fell over, hit her head and passed out.
Somehow she actually managed to get back up and carry on drinking for the rest of the night." – B
It's clear to see that, as a student, having a part-time job in a bar can be VERY eventful.
Let's hope that our 9-5 grad jobs bring this much drama!