What your Seven-Legged outfit says about you
Your third leg doesn't count
On Monday 12th October, over 7,000 Nottingham students will join up to take on the city centre in their most outrageous and extravagant fancy dress, tying their legs in teams of seven, and taking part in the unique and unparalleled SEVEN LEGGED BAR CRAWL.
An outfit says a thousand words, so what does your 7 Legged Costume say about you?
The novelty one
Having a chance to put the skills you learnt at GCSE art to good use, mix up some face paint and old birthday balloons and you can be a grape! Such fun.
The Caveman
As the saying goes 'Sun's out guns out', in this case there's no sun, but plenty of guns.
The caveman costume is the ideal way to subtly get your arms out without looking like too much of a dick.
Modelled by boys who spend more time in the gym than you do in bed, you'll likely see these lads raucously drinking beer and red in the face from tensing so hard.
The Men in Black
The sassy but easy option, the good budget fancy dress. Tells everyone you're not that creative but also probably fairly fun
Everyone has a white shirt in their wardrobe, and if you don't you can probably borrow one from your male next door neighbour.
The Sports Girls
"Did you know, I'm a cheerleader?" In case you didn't already know, these girls are in a sports team.They love the stash so much it even doubles up as a 7 Legged costume.
Embracing the St. Trinians vibe, these girls have invested in some war stripes, in case people get confused and think they are actually just going to play sport.
This is a foolproof way of being in fancy dress while still looking fit. Well done gals.
The effort makers
7 legged is Europe's biggest bar crawl, and this home-made costume is in the runnings for Europe's best dressed. You've probably spent a good few days preparing this outfit.
While the pros are getting first for effort and getting a shit tonne of likes on Instagram, the size of this costume could provide a bit of a cock block.
The face masks
This simple yet effective costume screams "I'm doing Politics and have come on 7 Legged with my course friends".
The Netflix Tribute
Most likely having been inspired by Orange is the New Black, 7 Legged give girls and guys the once in a lifetime opportunity to spend the evening as a criminal bisexual.
Edgy.
The Unknown

While the aim of this outfit is a bit ambiguous, anyone who is ballsy enough to do the 7 Legged half naked with head bobbles on definitely deserves a bit of street creed.
The Artists
If you're looking for the perfect way to show of your artistic flair, what better than to dress up as an Avatar. Basically a superior version of a smurf.
Where's Wally?
A classic and easy costume to pull off. You most likely recycled this one from a Rag Raid.
The "I don't care as long as I pull"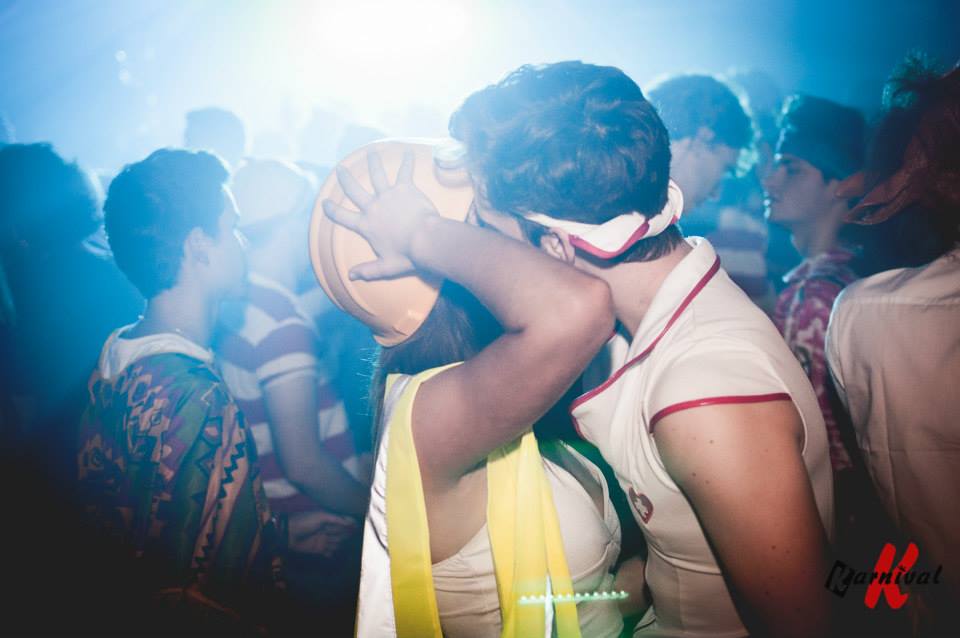 Sexy nurse, sexy builder, dress up as anything as long as the prefix is 'sexy'.
Guaranteed pulling costume, well played.
The "I'm going to dress up as myself"
You've really been thinking about your costume for a long time, and decided to pull out something totally original and out of the box – you've dressed up as yourself.
Cute couple though.
The Band Tribute
Whatever era you want to relive, now is your chance.
Ideal costume choice for the team bar-crawl, dressing up as the Spice girls is a pretty good shout, although there will probably be a few arguments over who has to be Geri Halliwell.
Mix it up if you want.