Fresher, philosopher, preacher, hairdresser: is Stephen Wallace the best person in Nottingham?
Could Stephen Wallace be the best fresher ever to grace Nottingham? Quite possibly.
Florence Boot fresher Stephen Wallace hasn't been here long and he's already done more than most could even imagine.
He's appeared on TV (sort of), cut his mate's hair and plans to deliver a Christmas sermon.
He also didn't ask us to do this article in any way whatsoever.
A full-time philosopher, part-time hairdresser and freelance preacher, this deep-thinking 18-year-old has taken University Park by storm with his revolutionary ideas on alcohol, Christmas and the hard-hitting lyrics of grime icon JME.
"I'd say I do think a lot," he says. "The darkest nights produce the brightest stars."
Stephen was first launched into the limelight when he starred in an NSTV video in freshers' week, saying "only by going too far can we truly know how far we can go."
He says: "Two days after that I got recognised by three strangers. This is particularly potent as my Instagram bio at the time was: 'it is my dream to be recognised by a stranger at SPAR.'
"It wasn't in SPAR, I was actually in the toilet having a piss at the time. So the dream just gets redefined – the goalposts move back and the show goes on."
But this 21st century Aristotle wasn't drunk when he unleashed his words of wisdom.  That's because brave Stephen refuses to allow himself to be constrained to the same societal norms which have defined the very existence of his peers.
"As for getting drunk, I'm not into that sort of thing," he says. "I think in today's society there's too much stress on the need for getting drunk and I just don't follow.
"In the words of JME, 'have a drink but don't blaze.'"
Despite only posting 18 photos on his fabled Instagram account, Stephen has gathered a colossal 303 followers. What's his secret to social media dominance?
"I'm one of the good guys."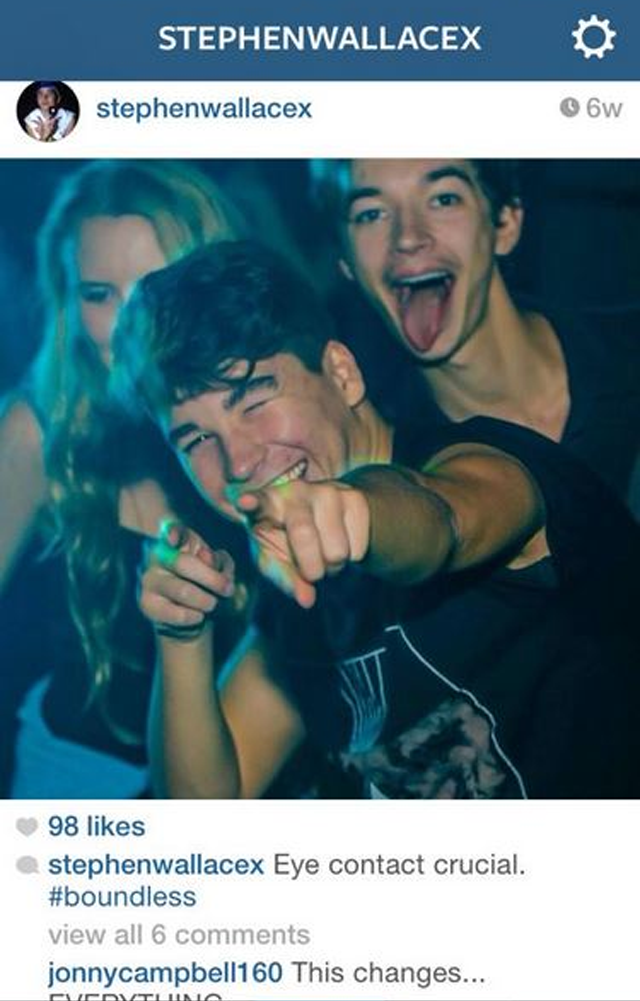 In the current climate of lad culture, misogyny and worrying levels of alcohol abuse, under-represented students are becoming more of a marginalised and misunderstood group than ever before.
So it's incredibly refreshing to see one of our own refused to be cowed by the overbearing pressures from above.
He's unique in mind and unique in style.
"I don't like getting my hair cut professionally as I feel it looks too uniform. Whereas if your friend cuts it, it can't be copied and you'll never have the same haircut twice.
"It's more about originality than standing out. I tried to cut my friend's hair but he chickened out halfway through and ended up looking like a monk.
"He wasn't a happy bunny.
"The hairdressers laughed at him when he went to get it fixed. He was distraught."
When he isn't waging war on booze culture or his mate's barnet, stoical Stephen can be found preparing his Christmas "sermon" for those who don't believe in celebrating the winter festivities.
"The other day my friend and I were chatting about Christmas and how he hated the early build up. I love the early build up – it starts in September for me.
"The conversation developed and he talked about how Christmas has lost its meaning. He went on to ask me to send him a short sermon on Christmas morning, briefly sending the Christmas message into his non-believing household to bring about a bit of its meaning.
"The main point of Christmas is the celebration of Jesus' birth. With Jesus comes grace and all we need to do is accept.
"But wherever we're at in life, even if we don't believe – we should at least take Christmas to be a time of joy and thanksgiving."
Has your life descended into a cyclical sequence of nothingness? Are you crying out for change? Are you finally ready to open your mind? Follow Stephen on instagram at stephenwallacex or snapchat him – djyolobear19