Halloween Fancy Dress-The Do's and the Don'ts
Don't be spooked by dressing up ideas, The Tab is here to help!
So it's finally that crazy time of the year when we all get to dress up, go out and have fun.
Halloween is a festive time, whether you've decided to be scary or stylish here at The Tab we have some guidelines for the Do's and more importantly, the Do NOTs of Halloween fashion!
Do– Budget
As poor students we are always conscious of our measly budgets however it is still feasible to do fancy dress on a budget!
Turn to your wardrobes and, you never know what could be lurking in there!
Both of these fancy dress looks were created using a random collaboration of already existing wardrobe items, which means they're student friendly.
Don't be a slut.
Yes it's Halloween, this doesn't mean that you should get naked at the first opportunity to dress up.
Yes, we know you have a good body but we don't need to see it all!
Ladies going out dressed like this, (you know who you are), you're not fooling anyone plus it's freezing outside so cover up!
Don't  try buy before you buy.
Buying your costume online and it says 'One Size Fits All' is a risk that The Tab advises you not to take.
Unless you're a midget one size most definitely does not fit all!
 Do– Be creative
As students we can't afford a lot, therefore simple things in life such as hair spray can get you a long way!
All that is required to create this troll-tastic look is several cans of coloured hair spray. Easy yet so convincing!
Do– Experiment with Face-paint
Be adventurous with face paint and makeup to create a scary and convincing costume!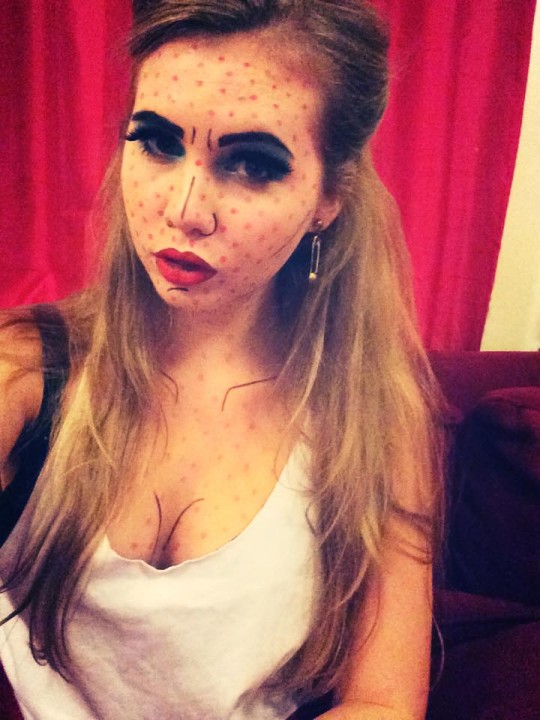 Don't– Wear a mask
Especially not on a night out.
Masks can be creepy and people will probably be more frightened when you remove the mask and your face is a red sweaty mess and your hair is slicked onto your head!
Don't– Go as a Private Joke
Nobody will understand it and Halloween is a time for us all to dress up and admire others' creativity, it's no fun when nobody understands your costume!
I mean..I just don't understand.