Fire engines called to campus following 'chemical spill'
Fire engines and ambulances on campus, incident in L3 lab near Coates Building
exclusive
Fire engines and ambulances have been called to deal with an incident on University Park.
The East Entrance to the university is currently closed and more than 12 vehicles are on campus, including two fire engines and 21 firemen.
A PhD Civil Engineering student said that the incident originated in the L3 Lab, near to the Coates Building, where there are a variety of flammable chemicals.
"I was in the office of the Nottingham Transportation Engineering Centre (NTEC) when the alarm went off," he said. "We immediately evacuated. I was confused as all labs are closed on weekends, so the source was not known.
"I saw fire men go in groups of two with masks and fire clothes. When they came out, they scrubbed the clothes and disposed of them, before another two went inside. Security had gone inside at first but they called the fire service directly when they saw the fumes."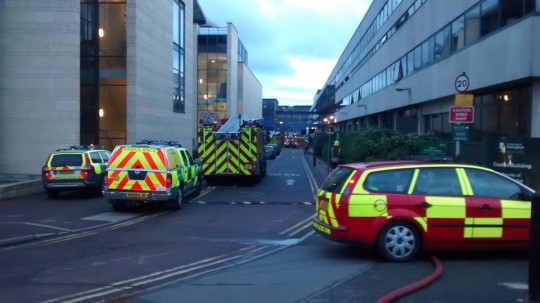 UPDATE: Coates staff said it was a 'chemical spill'. Firefighters are still at the scene and the road behind Coates has been completely cordoned off.