10 things to do this week
Who cares about deadlines and dissertations? We don't. We've got better things to be doing
1.  UoN Fashion Society and Her Campus Nottingham's Fashion Party @ Alea Casino 
Monday at 7.30pm, tickets £6
Featuring Fashion society's annual fashion show, the night is in aid of Coppafeel, so expect dancing boobs and the breast kind of chat.
2. Customs by Logan Wamsley at New Theatre
Monday and Tuesday, 7pm, tickets £3
When you die, instead of heading to heaven, this play sees people heading to the airport. Judgement day is waiting in the customs queue. Sure to be one that leaves you with plenty questions about life.
3. Bandsoc Battle of the Band's Final @ Spanky Van Dykes
Sunday at 7pm, tickets £3 in advance
Five bands are competing for the coveted Battle of the Bands trophy and some recording time. Apparently the heats were pretty fierce so the final is bound to be even more tense!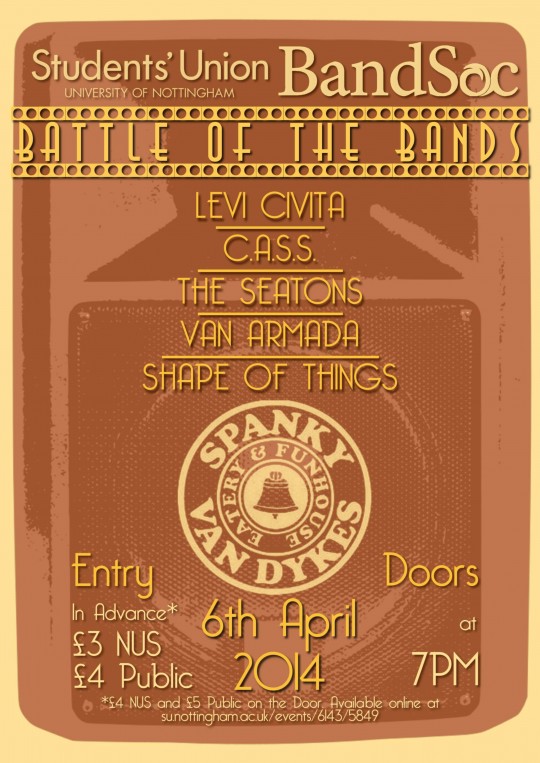 Wednesday – Saturday, 7.30pm, tickets from £4
This was the play that Daniel Radcliffe got naked in in The West End. Expectations are therefore high for the play that depicts the decay of modern man.
Thursday, doors 6pm tickets £28
Heading to Nottingham on their UK tour, along with Don Broco and Young Kato, there will be plenty of mosh pits to lose your shoes in.
[youtube]https://www.youtube.com/watch?v=VxldtR106Sg[/youtube]
6. Robin Hood Rugby 7's @ Highfields Sports Ground
Wednesday, 2pm-6pm
In participation with Crisis, 12 hall teams will battle it out in the sun (fingers crossed) and there will be a  'festival atmosphere' (plenty of beer).
7. The Dishwashers at Theatre Royal
Monday- Saturday, times vary, tickets from £14, discount for students available.
Starring David Essex (your mum probably loves him), this play is all about finding the existential meaning in washing dishes for a living. Probably a good one for all of you still struggling to find a grad job.
8. Ballet Boyz: The Talent @ Nottingham Playhouse
Monday, 8pm, tickets from £11
Ballet Boyz are a force to be reckoned with in the dancing world. This show features 2 dance pieces that are sure to wow.
9. Lunchtime concerts @ Djanogly Recital Hall
Tuesday and Friday, 1.15pm, FREE
This week sees the turn of the Pianists on Tuesday and the String Orchestra on Friday. A great way to procrastinate on campus.
10. Photosoc Gallery @ Crocus Cafe
Wednesday, 7 – 9pm, £2
Photosoc are exhibiting all the competition winners and runners up from competitions this year at the Crocus Cafe gallery in Lenton.  There will be live music from Heavy Heads.