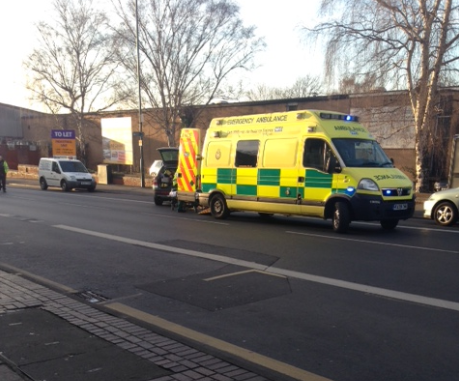 Man arrested after Ilkeston hit and run
Girl remains in stable condition
A man has been arrested after a hit and run incident on Ilkeston Road.
A 20 year-old girl was injured when the car hit her at around 4.30pm on Friday 7th March.
Emergency services were quickly on the scene to take the victim to the QMC, where she remains in a stable condition.
Following a search for the car in question, a black BMW has since been recovered by police and is now undergoing forensic examination.
The police have bailed a 26-year-old man until further inquiries have been made.
Third year industrial student Saul Larthe was on Ilkeston Road on the afternoon of the accident.
He said: "I was on the Kimbolton Avenue side of Ilkeston Road and I saw a girl lying on the road with a medical team around her, she was wrapped up with an oxygen mask. I thought she was dead.
"I went in to the shop and asked the lady behind the counter what was going on. She told me she saw the incident and that it was a hit and run. She told me that the car hit the victim's leg and she rolled under a stationary car.
"She also said that the car which hit the girl was flooring it up from the bottom of Ilkeston Road and carried on going after it hit her.
"I saw a few students who must have been the girl's friends. They looked distraught. It's shocking, I can't believe the car didn't stop."
Another witness told the Nottingham Post that the girl was left "screaming in agony" as the car drove away.