Manifest-No
The Presidential manifestos can be really boring, so The Tab's political correspondent Josh Kaplan went through them for you!
Now that election season is fully under way, we've examined the Presidential manifestos in our own, very tongue-in-cheek style. As you may have guessed, there are a few issues with them…
Tom Hicks
Little effort on formatting. No one likes big blocks of text, Tom.
No mention of which Varsity events he'd cancel if elected, shows little attention to detail.
"Creating a bespoke career outcome" – If I wanted bespoke, I'd buy a suit. Just give me a job.
No specific policy on sink defecation.
Johnny Lawrence
Acknowledges that he came 7th last year, admitting defeat straight off the bat. No one likes a negative attitude, Johnny!
Suggests squirrels be used to collect lecture notes, when everyone knows ferrets are more effective.
The policy of "ritualistic slaughter" is likely to upset vegetarians and Christians.
"Temple building " is financially irresponsible.
Doesn't take into account the wishes of those who like to eat courgettes on Wednesdays.

 
James Potts
Bonus points for wearing a turtle neck in the official photo, swag factor doubled straight away.
Encouraging people to miss lectures is a rebellious move.
Suggests a street-view map of the inside of buildings, but would he be willing to wear a headcam?
Used exclamation marks when talking about personal calendars, definitely too excited about organisation.
Suggests a space in Lenton where you can do work, drink and chill with people. If only a place like that already existed, but had a bed in it too?
Clearly cares about the SU, though.
Mandour Jr.
Nicked his campaign slogan from JFK, but it's still cool.

Stole his speaker's corner idea from Hyde Park.

Pretty sure his promise for late night hopper buses has been used by every other presidential candidate ever.

"Continuing the work that this/previous Student's Unions have achieved", presumably by being as careerist and ineffective as the existing crop.
Harry Copson   
Put multiple bullet points in the middle of a paragraph, an unforgivable sin for anyone at a Russell Group university.

Other minor grammatical errors such as missed apostrophes and irregular capitalisation.
Suggests a Lenton hub for "printing, workspace, student services and socialising", which is almost as unrealistic as inviting the whole university round for pre-drinks.

Wants to meet with sports teams to "gauge their needs" – basically trying to invite himself to socials.

Does a fantastic Rick Astley impression.
Callum Morris                                                                                                                               

 
Riddled with grammar and syntax errors such as: "every student leaves feeling as if they have for the best out of Nottingham University."
Wants to set up student lecturer "chat-rooms." Aside from using a word that's at least ten years out of date, it's a bit creepy.
The whole minion thing is an odd one: is he one of the many servants or the evil villain trying to take over the world? Interesting choice.

Promises to abolish parking permits, but when The Tab contacted the council, they had no plans to do this and said that the SU has no involvement in this issue.

 
Katie Williams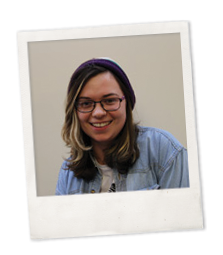 Only makes one promise, bit lazy.
Handmade t-shirts look very questionable.
Beanie hat in photo is a big gamble, faux-edgy or real edgy?
Is the SU really so bad that you need to go all kung-fu ninja on it? Chill bro