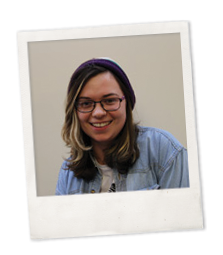 Why you should vote for Katie Williams
I'm voting for Katie Williams because it's time someone shook the SU up, says Sam Dean
As you may or may not have noticed, many of The Tab's writers have been actively supporting Katie Williams in her campaign for SU President.
As The Tab revealed yesterday, 92% of students don't know what the SU does and, remarkably, 72% of students don't even know who their SU President is. Students don't care about their Students' Union, but we should. We pay their wages, after all.
If our survey revealed anything, it's that the SU elections are a popularity contest. The vast majority of people won't read the manifestos won't evaluate the many promises each candidate is making and won't care who wins.
I was the same. In my first and second years, I voted for the names I had seen the most around campus and for the people I knew. Of course, there will be some students out there who really delve deep into the manifestos and make an informed decision, but we all know that isn't the case for most of us.
The SU needs to be more transparent. They should have to respond to petitions, they should have to justify their decisions and they should be in touch with the average student. It needs to be more approachable and it needs to listen to its students on a regular basis. We should know why the SU do certain things and we should know what they think about the big issues affecting Nottingham's students.
This is what Katie Williams is campaigning for. She isn't a BNOC and she hasn't made any ridiculous promises which she won't be able to deliver if she won. She just wants the SU to be more honest and more open.
There's a divide between the student population and the SU. As Katie said, "it doesn't have a presence in the majority of student's lives – which is why 70% of people didn't vote in last year's election."
Personally, I am tired of the way the SU is filled with careerists and CV-boosters who want the job for personal reasons and don't give a fuck about promising things they simply can't do. I am tired of the way someone can earn almost 20k of our money simply by having the most Facebook friends or the most enhanced Karni reputation. I am tired of the way people vote, I am tired of the way people campaign and I am tired of the way the SU works.
That's why I'm voting for Katie. I want some actual change in the Students' Union, not a continuation of the way it has been going.
The thing is, everyone I know who has properly read the manifestos has said they are supporting Katie. She makes sense and, if I'm honest, it's refreshing to have a candidate who is willing to look at the status quo and be prepared to shake it up.
It's good to see someone who is honest with what they want to do if they got the job. Katie isn't trying to pretend that she can radically alter the student life in Nottingham by bringing in things like a Lenton hub and a Lenton Hopper Bus, or getting rid of parking permits. No-one can do that, especially not in one academic year. If you don't believe me, call Nottingham City Council, they will be happy to tell you what they think.
There's nothing fake about her and there's nothing wrong with actually voting for someone who you think would be a good SU President instead of someone who your friend's friend once met outside Ocean.
Take a proper look at the manifestos and see what you think. Don't base your decision on popularity, or on how cool someone's campaign video is. Base it on which candidate you genuinely think will make a positive difference to Notts students.
If you think that is someone else, that's not a problem. But I don't think you will.