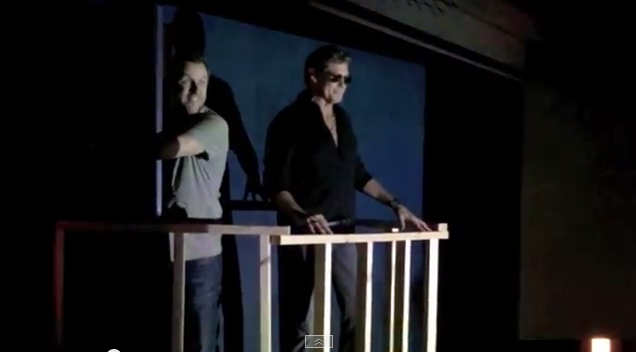 The Hoe Hasseled The Hoff
The man, the myth, the legend delights Notts students by shirt-swinging in Ocean…
In the next step of his illustrious Notts nightlife tour, the one and only David Hasselhoff took a dip in the Ocean on Friday night.
The Hoff is in Notts this Christmas starring as Captain Hook in the Peter Pan panto at the Theatre Royal (which was brilliant, by the way) and he is said to be walking around the city centre in a cunning disguise constituting of just a hat.
Having appeared at the much less popular Oceana last week, this really was the natural progression for the Baywatch star. It remains to be seen, however, whether he will move on to the many floors of Gatecrasher, Nottingham's official Worst Night Out.
Ocean owner Andy Hoe surprised everyone after playing a video of the Hoff apologising for not being able to make it, but then dramatically unveiling him on a small stage at the top of the club.
The Hoff then took to the stage to perform a perfect rendition of the Baywatch theme tune to a sea of shirt-swinging students, whilst wearing the famous lifeguard jacket.
In the most memorable moment in Ocean history, the Baywatch legend them removed his jacket and swung it around his head.
The Hoff has been keeping busy throughout his stay in Nottingham – he has eaten at various restaurants in town and keen 'Hoff-watchers' have spotted him shopping in the Victoria Centre.
There has been a unanimously positive reaction towards the American, who posed for pictures after ripping his shirt open while performing the Baywatch theme tune.
Ocean owner Andy Hoe posted this amazing video on YouTube which includes the Hoff's overly dramatic entrance and the subsequent rendition of his powerful love ballad 'Jump In My Car':
[youtube]http://www.youtube.com/watch?v=Tas47U4VzjA[/youtube]
It seems like the Hoff got far more involved at Ocean than he did at Oceana…
[youtube]http://www.youtube.com/watch?v=ALsCA7cbH-M&feature=youtu.be[/youtube]
As always, we've done the hard work for you. Check out the best student reaction to the Hoff's big adventure:
Is this the biggest thing to happen to Nottingham since England footballing legend Tom Huddlestone was seen in Revs? Or is all this Hoff-hype a little bit embarrassing? Let us know in the comments section below.