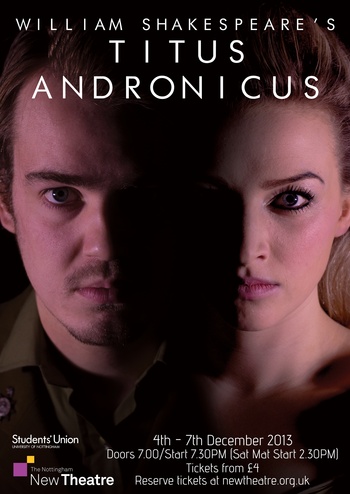 NNT: Titus Andronicus
This week The New Theatre tackles William Shakespeare's gruesome tragedy, and it's definitely not one for the faint hearted!
If you don't mind a bit of blood and gore (not forgetting human flavoured pies), Titus Andronicus is the play for you. The Shakespearean revenge tragedy is full of violent and often uncomfortable moments that epitomise that delightful 'squirm' factor.
Whilst the fake blood is being used by the gallon in this production, it still features a very human heart.
Cressida McGill's heart-wrenching portrayal of the innocent Lavinia, mutilated by the evil duo Chiron (David Porter) and Demetrius (Alfie Cranmer) is a shocking and tragic figure.
Ajay Stevenson executes the role of the villainous Aaron with wicked conviction and is truly engaging to watch, whilst Nick Barker presents the development of the play's tragic hero skilfully.
But don't fret – the play has its moments of humour as well. Nick Gill, in his role as Saturnine, provides plenty of comic relief to this dark drama. His interpretation of the Roman emperor was at times a bit like Rowan Atkinson's Mr Bean, which added a funny touch to the play.
However, the decision to reuse actors in new minor roles after their original character had been killed risked dicing with confusion, especially if they had not previously read the play. A few first-night mistakes in this performance also momentarily broke the flow of action and narrative focus.
Nonetheless, where this production succeeds is in the cast's group dynamics and the often witty interpretation of Shakespeare's dialogue. The emotional range on offer catapults from shock and disgust at the onstage violence to laugh-out-loud hilarity at the cast's comic interactions.
If you feel you can stomach what Titus Andronicus has to offer, this bloody play will be right up your street.
Check the New Theatre website for details of performance availability