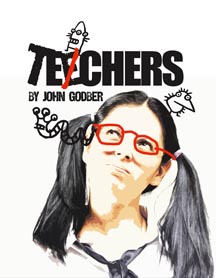 Lakeside Arts Centre: Teechers
Teechers was a sell out production by the John Godber Company this week at Lakeside. We went to check it out.
Teechers is an interactive modern comedy by John Gobder, which humorously explores contemporary and age old issues surrounding schools, teachers and students.
It follows pupils Salty, Hobby and Gail as they seek to perform an account of their time at secondary school, inspired by their recent drama teacher, Mr. Nixon. Although he embodies the ideals of fairness and empathy, he leaves the school along with the children.
Floating within and amongst the spectators of the busy Djangoly Theatre Hall – clad in their school uniform – were three school children, happily chatting away with the audience or generally tormenting each other as school kids are want to do. As far as mood setters go it's a surprising one, but certainly effective.
Yes, the entire performance was done by only three actors and actresses. It was lively and engaging, with frequent laughs from the audience and little in way of distraction or diversion.
The audience was itself a mix of children and adults, which seemed appropriate considering the material and certainly helped to generate the right sort of atmosphere.
The set was minimalistic yet effective, testament to the participants'/ directors' preparation, and scenes were effectively changed from a school staff room, to a playground, to a classroom etc. Added to this were superb lighting and sound effects that ensured some particularly sidesplitting moments.
While the attention may waver due to some over repetition of certain gags that, by the end, grew stale, the performance was solidly rounded off in a genuinely heartwarming and funny way.
Teechers is on tour around the country until the end of November.