Freshers 2013: The Nottingham A-Z
Freshers week can be daunting. To help, we bring you an A-Z of all things Nottingham!
Welcome Freshers of 2013 to the beloved city of Nottingham and its beautifully cheeky University counterparts.
To many of you, your new home may seem daunting and what you're really searching for in your welcome pack is not ANOTHER prospectus (seriously, UoN?) or scary timetable, but a friendly A-Z guide to your university's slang and need-to-knows. Lo and behold, The Tab is here to help!
Ok, so this isn't Nottingham specific. But most great stories start with alcohol as will lots of your university anecdotes so why not start the alphabet with alcohol too?!
Founded in 1849 by Notts lad John Boot, you can not escape the chemist in its hometown. However, the cheeky Boots on campus will provide many meal deals in your time (as well as hours of queuing…)
Banned by the SU and even has its own Wikipedia page, this legendary bar crawl involves having a pint or double shot in every one of the 14 hall bars by 11pm. Good luck. See The Tab's attempt here!
No, I don't mean the ones hiding from the geese on the lake. For those of you not Midlands-inclined, 'Duck' is a local term of endearment; (not an insult as I first presumed), the Nottingham synonym for "Pet" or "Sweetheart". Used mainly by bus drivers and shopkeepers.
E is for…Early Learning Centre
…or the Engineering and Science Learning Centre. Same diff. This unexplicably huge building you will soon associate with doom and terror as many exams take place here (you'll be fine)
Also known as Florence Boot. All the halls on campus develop their own nicknames that you should get to grips with i.e Ancy = Ancaster; Hugh Stu = Hugh Stewart etc…
Indulge your inner child from October 2nd-6th with Nottingham's annual fun fair!
H is for…Hallward Library
Ah Hallward…Tropical temperatures all year round, pizzas delivered at 2am and lending people iPads for no apparent reason. As a first year you might not see much of this hallowed building but during your university career you should become well acquainted.
This place is pretty cool. Nottingham boasts this national ice arena that makes a good day out. Tickets are only £5 with an NUS card!
Nearest campus to University Park, it has a strange sculpture that looks questionably like a spliff and all the buildings appear to be made of Lego.
K is for…King's Meadow Campus
Never heard of it? That's because no one goes here. Fun fact: Supermarket Sweep was filmed in its former ITV studios here.
They sit proudly at the top of Market Square as  Nottingham students' perfect Kodak moment. Have a photo astride one of these beasts on a night out and you know you're doing Nottingham life right.
Your course will tell you Moodle. We tell you Mooch. Moodle is a magical website that your course claims everything is on yet it mysteriously never works. Mooch is a magical bar on campus where you can drown your Moodle-related sorrows in beer and burgers.
N is for…Nottingham New Theatre
This is the only entirely student-run theatre in the country and they do a pretty stellar job of things. Putting on a different play every week during the season, get yourself a cultured night out with fresher's tickets only £4!
Sail the great seas of Nottingham via Ocean and Oceana. Never to be confused, the two clubs will offer very different nights that you will not remember in the morning.
Get your hiking boots ready, for this is the greatest challenge you will face at Nottingham (note: dissertations and exams not included)
Where medics and nurses disappear to. If your course does not revolve around it, your navigational skills will. "By the back of QMC.." "At QMC roundabout…" "Near the QMC…" Learn where it is!
R is for…Rock City/Rescue Rooms
If you're into live music and/or are a massive hipster (admit it) then these two venues should be at the top of your list. Rock City attracts some big names gig-wise and plays host to the student night Crisis on a Wednesday. Rescue Rooms, just around the corner, is smaller but has a brilliant atmosphere and the bar has lots of fairy lights. What's not to like?
A gloriously retro cinema in Lenton with very cheap tickets for students, a trip to the Savoy makes a great budget night out.
Bet you were excited about living in a city with a tram network? Don't be. You will never use them as they go nowhere that anyone goes ever. For decoration only.
U is for…University Park Campus
Awwh. Isn't it pretty? Well lots of people agree, since it's been voted the most attractive campus in the country. Next year we are aiming for the most attractive students award.
Every spring, Nottingham locks heads with Nottingham Trent in a series of sporting events that have potential to get pretty ugly. Head along with lots of food, drink and fighting spirit to support your University. You can even pretend you're at Havard and make little flags. Whatever floats your boat.
W is for…Woollaton Hall and Park
Very pretty place to go for a run/picnic/chase deer
X is for…Xenophilius Lovegood
Oh come on, nothing begins with X really. And we do have a Quidditch soc.
Y is for…Ye Olde Trip To Jerusalem
Go and have a pint in England's oldest inn or, if you're really into your history, book a cellar tour and try not to get spooked!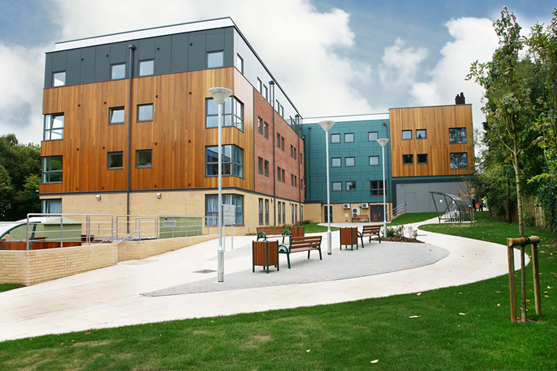 Or, more specifically, the nether universe that is Sutton Bonington campus: home of zoology, veterinary science, and all things bioscience. We're still not entirely convinced it's a real place though…