Made in Chelsea at the FoRAHm
It's going to be totes amaze…
In a move that will delight scripted reality fans and Rahs alike; Carpe Noctum, the team behind the jaeger fuelled debauchery that is Crisis, have invited 'stars' of the hit E4 show, Made in Chelsea to The Forum.
Power couple Spencer Matthews and Lucy Watson will embrace Forum in all its sticky glory this Monday, adding a touch of class to proceedings. Rah attendance at Coco Tang is predicted to suffer greatly as the Kings Road elite flock to Corner-house to support their fellow Londoners.
However, not everyone was thrilled to discover Chelsea's gruesome twosome coming to Nottingham, with one twitter user calling for a medieval approach to their visit.
In a bid to enhance his Rah credentials, Tab verified BNOC, Ronnie Tyler was quick to jump on the hype, extending a warm welcome to the esteemed socialites, going to so far as to put together a youtube tribute to the pair.
It was Lucy Watson's scheduled appearance that gave the best responses, including this true testament to love from presumably now single Politics student, Simon White.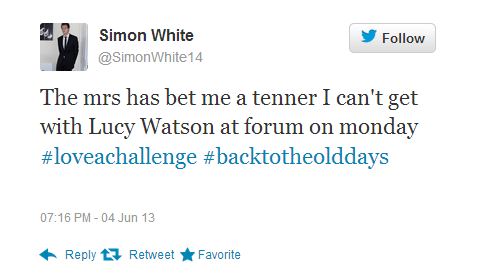 Whilst some many fancy their chances with Spencer's on screen love, others have been less optimistic about even getting to meet the charming Miss Watson.
So are you ready for a night of Moet-popping madness, with Spenny himself? Because these guys are…..