Nineties Nostalgia: The Crop Top
Who would have thought nineties fashion would be back on trend? Eleni Mitzali explores the quintessential nineties number – the crop top
If you don't already own one (or 5 of them) then you should! One of summer's biggest trends: THE CROP TOP. They are a M-U-S-T so get on it! It's the perfect excuse to expose that subtly sexy little bit of your waist out in the sun. However, while I'm writing this, the weather can't decide if it wants to let the sun out or keep raining so I'm going to show you a few ways to wear the crop top, whatever the weather.
If only the sun would come out, then so could your legs! When it does (please let that be soon), a crop top is perfect!
Simply does it
Try a plain cut in basic colours, like this maroon one paired with high waisted black shorts. The simpler the better!
Simply crops can be paired with a denim shirt for a day look, or worn with disco pants and heels for a night out.
A different type of crop top is the crochet cut. Paired with a high waisted skirt and plimsolls give off a schoolgirl look. Now add a denim shirt and your favourite sunnies and turn the look vintage!
No denim shirt you say? Well then put on your daisy dukes and you're set. If you're daring enough to wear a hat then go for it!
Beach tip: crop tops are perfect for over a bikini!
Now back to reality. Clouds and rain…something we are getting too used to here.
"How will I wear my crop top when the weather is like this?" you ask. Well I'll give you a few tips!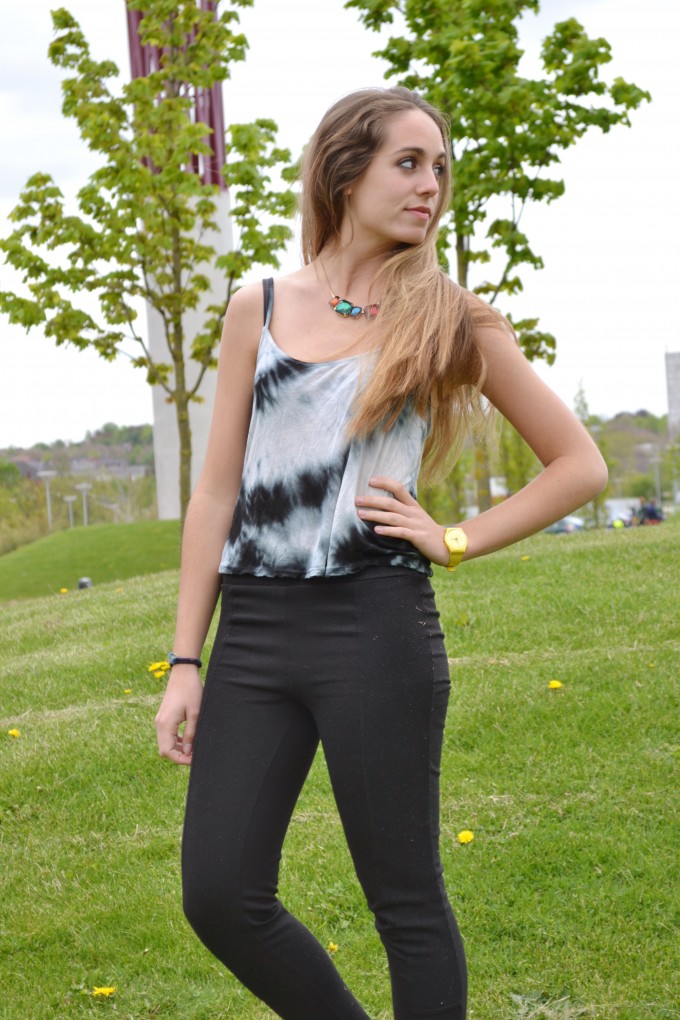 First of all, cover up those legs girl! Try black trousers but brighten the look up with a fun crop top!
Or wear your crop top with boyfriend jeans for a perfect casual day look.
While you dream of your legs in the sun, you can still rock the crop top in high waisted shorts with tights and a blazer.