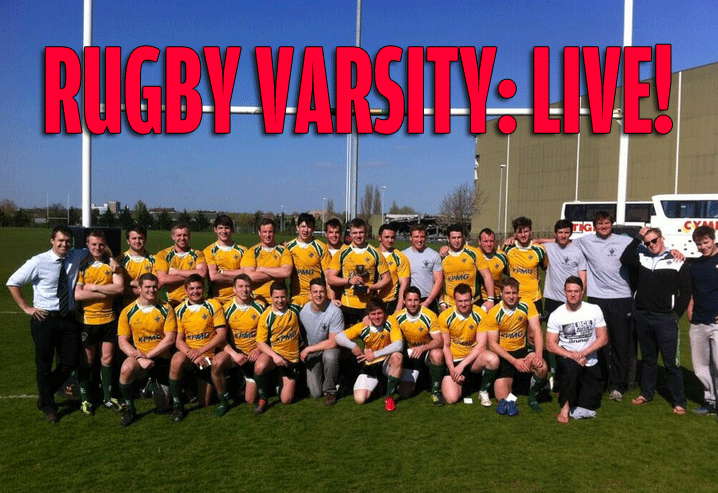 RUGBY VARSITY: AS IT HAPPENED
UoN SMASH Trent 22-3 and The Tab was there for the whole thing… Check out how it all unfolded at Meadow Lane.
The Tab Sports Team will be bringing you ALL of tonight's action LIVE right here on The Tab website. Got an opinion on the game? Bored of revision? Simply want 15 minutes of glorious fame? Get involved by tweeting us @TheTabNotts or text 07580003205
FINAL SCORE UoN 22 – 3 Trent
FULL TIME! UoN are victorious once more in this Varsity series. An emphatic victory to avenge for the robbery in the football. Trent fans go home looking very disappointed. Thanks for following and goodnight.
21:30: Trent make a last dash for the line and drop the ball. Sums up their night.
21:28: TRY TIME! Penalty try awarded to UoN. For some reason our fans are already going home! Jones makes the simple kick. UoN 22 – 3 Trent.
21:27: UoN try to crash it through the middle. Scrum to Notts just over 5 metres out.
21:25: Minutes left in the game. UoN with a line-out deep in the Trent 22. Notts looking to finish this in style.
21:22 Unused substitute Peter Hyams running around trying to look busy with a water bottle at the break of play.
21:21: DRAMA DRAMA! This is end to end stuff. Trent break only for Notts to do the same. We nearly make it through but the egg shaped ball takes a funny bounce.
21:19: TRY TIME! An absolutely beautiful bit of play. Tab favourite No. 12 Henry Roberts switches the play and weaves in and out of the Trent defence as they're left in stitches.
No conversion as the bright Eddison misses the kick.
21:17: Conor Jones is penalised for holding onto the ball. Lazy Maisey bottles it and opts for touch. Attack comes to nothing.
21:15: Maisey makes a good breakthrough from some slack defending from the UoN back line. Good recovering tackle from Jake Lloyd. Scrum down Trent ball 10 metres out. Dangerous territory.
21:13: PENALTY MISS. Maisey misses again. Maisey?! More like Missy…
21:10: Kicked straight out from our new scrum half Joe Wilkes. Robertson is back on for Trent. Back to 15-a-side now, and UoN will be gutted they didn't get near the Trent try line.
21:07: POST! A-maise-ing miss. The no. 10 hits the post and Will not be forgetting that. Nor will the crowd. It remains 10-3. Trent are very quiet in the stands with more and more unimaginative chants by the minute.
21:06: Got the feeling Notts have a pretty convincing hold on this game. Trent have rarely made it into our half.
As we say that Trent burst through with a well placed chip and chase. Eddison clears up but is guilty of holding onto the ball for too long. Penalty to Trent.
21:04: BAGPIPES! We are not lying to you. Someone is playing bagpipes in the Uni stands. And now we're singing Swing Low Sweet Chariot. Feels like we're at Twickenham.
Meanwhile, there is a rugby match on.
21:02: Another Guthrie moment. Apparently there was some scepticism with the football gag at 20:47… Someone sack him.
21:00: TEXT: "Who's the fittest cheerleader?" Well we couldn't see our very own Knights but Trent provided some eye candy… kind of.
20:58: HANDBAGS. It's all kicking off with a very nasty tackle from Trent. Referee consults the touch judge aaaaaand HE'S OFF!
Oh wait no he isn't. Only a sin bin! Apparently the ref doesn't have a yellow card… NUMBER 13 ANDREAS ROBERTSON in the bin.
20:55: UoN's Tom Walsh is taken off for no. 22 Conor Jones. Fun Varsity fact, he went to school with Sam. Apparently he was quite good when he was 13.
20:54: PENALTY MISS! Maisey attempts an audacious 50 yard kick only to narrowly miss.
20:51: Tom Holliday is back from his vacation in the sin bin. Trent back to 15. They take off their no. 8 Rob Young to be replaced by no. 19 Ed Duerden.
20:50: TWEET! 'URN's Sachin described Matt Eddison's kicking as sexy… #eachtotheirown.'
20:47: Lovely bit of football being played here. Nothing much happening so far. Line out on the halfway mark, which is well disrupted by Notts.
20:42 CHEERLEADER BATTLE! We couldn't really see UoN but we've been informed their banner read "T-R-E-N-T. Someday you will work for me."
20:32 A feisty affair here at Meadow Lane, with some predictably big tackles flying in. Neither side has enjoyed a sustained spell of pressure but UoN look quicker and more penetrative going forward. All to play for.
20:32 HALF-TIME UoN 10 – 3 Trent
20:31 TEXT from Hannah: 'Snog, marry, avoid the fly-half, the scrum half or the hooker?'
20:30 TEXT! A lovely yet slightly disturbing text from Hannah: 'Right Sam, we girls need to know, what do the hot rugby guys look like rolling around in the mud?' Muddy. Thanks Hannah.
20: 26 HANDBAGS! Trent's Tom Holliday is packing his bags after a yellow card for a despicably late tackle on UoN fly-half Walsh. There were a few fists flying about afterwards but nothing the referee couldn't put an end to. Trent down to 14 for 10 minutes.
20:23 Crowd excitement building as the cheerleaders start warming up…
20:20 CONVERSION Tom Walsh belts the conversion over to secure the 2 extra points. UoN 10 – 3 Trent.
20:19 TRY TIME! UoN take the lead once more after Jamie Sims crashes over the line after a good move from the lineout. A big moment for the NURFC President. Sims bringing Trent back to reality, it seems.
20: 15 Very cagey here, as both sides are content to kick deep. Some big tackles flying in, mind.
20:13 Trent lineout 5 metres from the goal-line comes to nothing as UoN defend well again.
20:07 TEXT from the aforementioned Justin Guthrie: 'Hi Sam, long time reader first time texter, how will UoN find the breakthrough? Might they find their Spark in the shape of their number 6?' Stealing our thunder there, Mr. Guthrie
20:04 Predictable chants of "UNAY!" coming from the UoN fans. Good to see we've come up with something original for this penultimate Varsity event.
20:00 Penalty to Trent, fly half Will Maisey with a sweet strike through the uprights from at least 35 yards, out by the right-hand touchline. 3 POINTS!
19:57 Big drive from UoN hooker Matt Humphreys, penalty to Uni…3 POINTS! Tom Walsh strikes it right between the posts. Cool as a cucumber in a snowstorm. On a snowmobile. Good start.
19:55 The lineout is about as straight as the Trent Radio guys singing that Nelly song earlier. The attack comes to nothing.
19:54 HUGE tackle from Tab fan favourite Nick Greenhalgh, forcing a UoN lineout 5 metres  out.
19:53 UoN prop Freddie Newman showing he's not that old with some good strength on the halfway line. Scrum down!
19:52 Somewhat unsurprisingly, both teams playing for territory at the start of this one.
19:50 Trent winger Dean Adamson showing some early pace out on the right-wing, but he can't quite reach his own grubber.
19:48 PENALTY MISS UoN winger Matt Eddison puts a penalty wide. Sloppy start from both teams here: fumbles and charge-downs aplenty. Feisty. And cold.
19:46 KICK OFF Trent kick us off and fail to make 10 yards. Early scrum here.
19:45 The teams are out here at Meadow Lane. Both look very cold. Also, worryingly for us, there appears a complete kit clash.
19:40 Rumour Watch: The Tab's very own Justin Guthrie, presenting for URN tonight, has just mentioned a "big night with big men"… make of that what you will.
Meanwhile, the sun is out here at Meadow Lane but it's a touch gusty as some chumps from Trent with microphones sing Nelly's "Hey Porsche". 5 minutes till kick off…
19:35 KEY PLAYER WATCH: The Tab has been reliably informed that we should keep our eyes on UoN centres Henry Roberts and Nick Greenhalgh, whilst number 8 Phil Williams has captained the side throughout the year, despite only being in his second year.
19:31 TEXT: Text from Frankee Cox: "Can't believe Peter Hyams hasn't made the starting line-up." Neither can we, Frankee, neither can we. Keep the texts coming people, 07580003205.
19:15: Half an hour till kick off, but we could well be delayed. In the meantime here are the starting line ups. We've got a few puns in mind…
TRENT: 
NOTTINGHAM: 
19:00: WE ARE LIVE! A very cold welcome from Meadow Lane for the Men's Rugby Varsity. Tom and Sam here freezing our rugby balls off in uncomfortable seats just for you lot. Bringing you live text updates all evening. Starting line ups on the way.
An early victory for The Tab as we sneak in some Domino's past security.
UoN may have already secured a record-breaking Varsity victory, but the Rugby Union lads will be out to avenge Thursday's football defeat as they face Trent at Meadow Lane tonight.
After last season's promotion to the Premier North A division, NURFC were expected to struggle this year. They have enjoyed an excellent season, however, and confidence is high going into this titanic clash with their oldest enemy.
Last season's disastrous 17-15 Varsity loss will be in the minds of the UoN 1st XV, and they will be hoping they can cut out the silly errors and kicking inaccuracy which cost them so dearly a year ago.
In preparation for the big game, they created this surprisingly entertaining promo vid. Considering the generally poor standard of most of these promotional clips, The Tab reckons this is actually a pretty decent effort.
[youtube]http://www.youtube.com/watch?feature=player_embedded&v=3xmpYKbZ1-c[/youtube]
Trent will once again be the underdogs going into the game, having suffered a difficult season in the Premier North B league, a division below UoN. They still had time to receive some last-minute coaching advice from former England international, Mike Catt, though, and they will surely looking for a repeat of last year's dramatic encounter.
Don't worry if you can't make the game – there will be LIVE text updates throughout the match right here on this very page. Don't go anywhere. It is going to be HUGE.