10 Things To Do This Week
A big theatre week, Dog Is Dead homecoming and much more!
1) URN Presents Blackjack @ Spanky Van Dykes
Friday,10pm
URN, the University's student run radio station, will be hosting an evening of urban music at Spanky Van Dykes. So break away from the usual house scene, all that skanking will inevitably give you an RSI, and give your bump'n'grind a chance.
https://www.facebook.com/events/446260528788477/?ref=2
2) East @ Nottingham New Theatre
Wednesday, 7.30pm (2.30pm Sat Mat), £5
Steven Berkoff's East End epic theatre extravaganza kick starts part two of the Nottingham New Theatre Spring Season.
https://www.facebook.com/events/250995905046741/
3) The Societies Ball @ Britannia Hotel
Friday
The evening where committees put down their constitutions and get praise for all the work they have done this year. Keep an eye out for the Tab's coverage of this event!
http://www.su.nottingham.ac.uk/ents/event/4672/
4) Noises Off @ Theatre Royal
Tuesday-Saturday, 7.30pm (2pm Weds & Sat Mat), £20
West-end smash hit and recently revived Noises Off makes a pit stop at the Theatre Royal, in what is widely considered to be one of the funniest farces going.
http://www.trch.co.uk/index.aspx?articleid=20413
5) Jaguar Skills and His Amazing Friends @ Stealth
Friday, 10pm, £12
Now this an exciting event if The Tab has ever seen one. Radio One's golden boy Jaguar Skills will be entertaining us mere mortals with his amazing mixing abilities this Friday. Ocean can wait, this boy's got skill…
https://www.facebook.com/events/363705597071882/?ref=2
6) Eight @ Nottingham New Theatre
Monday & Tuesday, 7.30pm, £3
Ostensibly Eight interweaving monologues, six of which you will be able to see here from a highly accomplished set of actors and actresses.
https://www.facebook.com/events/444578935636523/
7) UoN Darts Open @ Mooch
Sunday, 12pm registration
THE DARTS IS BACK. The Tab knows how much you all loved Varsity darts, and so the University is bringing it to you! Anyone can enter, boys or girls, so why not give it a go. LET'S PLAY DARTS.
https://www.facebook.com/events/283052085162268/?ref=2
8) Dog Is Dead @ Rock City
Friday, 7pm, £11.50
The Nottingham music scene is one on the up. Catch local boys Dog Is Dead on their Rock City homecoming this Friday. Support comes from Nottingham Tab favourites To Kill A King and Kappa Gamma.
http://www.rock-city.co.uk/gig-guide/394/dog-is-dead
9) The Halle @ TRCH
Thursday, 7.30, £5 GoClassics
Why not treat yourself to one of the most intense Romantic works, Symphonie Fantastique, at the Royal Concert Hall? Go on, you deserve a treat….
http://www.trch.co.uk/index.aspx?articleid=18640
10) The Kite Runner @ Nottingham Post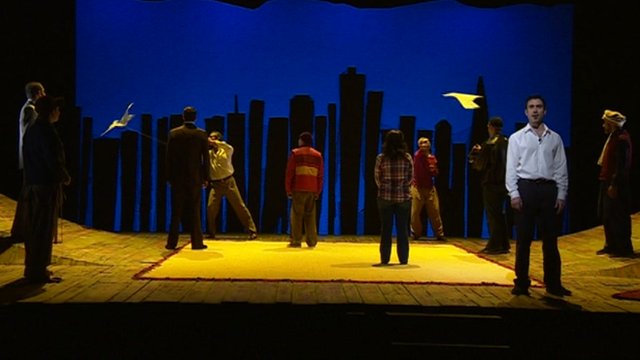 All Week, 7.45pm (1.30pm Thurs Mat, 2.30pm Sat Mat), £17.50
Opening to fantastic audience reaction, don't miss out on the most exciting Nottingham Playhouse production in recent history.
http://www.nottinghamplayhouse.co.uk/whats-on/drama/the-kite-runner/